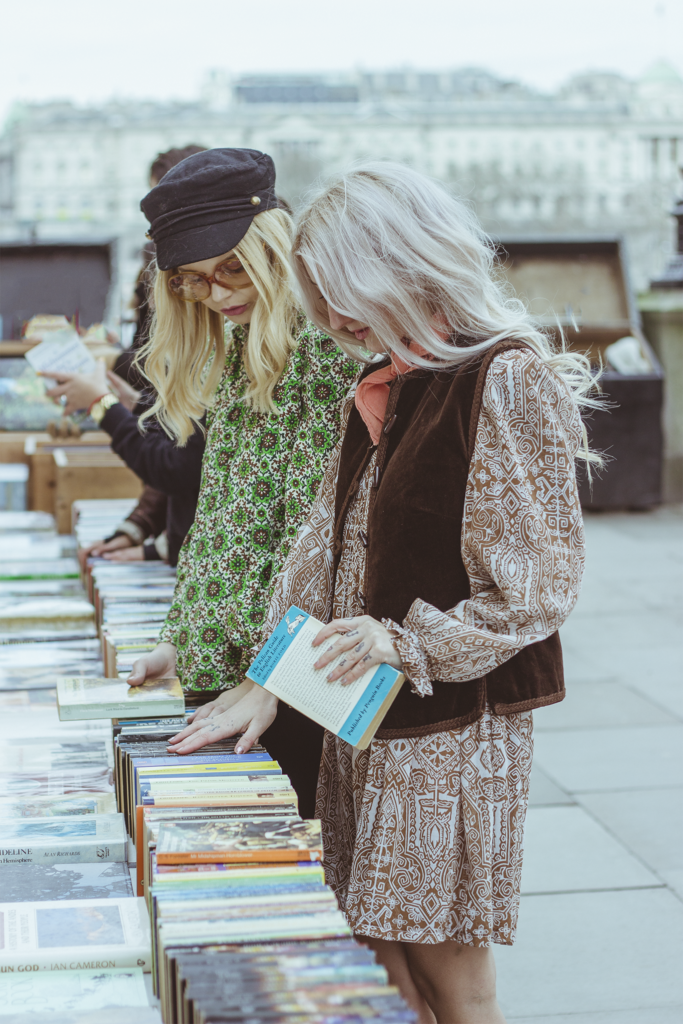 The 9 best boho budget tips
How to create the perfect boho look without breaking the bank? I often get asked how to create the perfect look without spending all your money. Here are 9 boho budget tips to look your boho best.
GO VINTAGE
Boho or hippie style is timeless, so you don't need the latest of the latest fashion. Vintage stores can be a real goldmine for a true boho girl. Take your time and stroll around. Here you can find some real 70-s styled items without spending loads of money. London is a true paradise for vintage stores especially the Shoreditch area. In Amsterdam head to the Jordaan, where you find a lot of second-hand stores for some treasure hunting. I found my most precious winter coat ever in a vintage store. It's brandless, but I don't care!
GO ONLINE FOR SECOND HAND
Nothing beats a rainy day with doing some shopping online. For second-hand stuff there are also a lot of web shops available. In the Netherlands we use Marktplaats, but I'm sure every country has webshops like this. Just type in "boho dress, boho bag, hippie gilet etc" and see what pops up. You can also go and look for your favorite brand and see what's available. Although I prefer to see what I buy you can strike a real deal with finding that one perfect bag. Little note of warning. Never buy with sellers that have only been online for just a few months and check out the rest of the merchandise. Be aware of fake. If you like to be on the safe side try Asos Marketplace. Another great place for vintage boutiques online.
WAIT FOR THE SALES
Yes, even the biggest boho brands have sales. From the twice a year clearance to crazy 24-hours flash sales.  Just make sure you don't miss it! Get on the email list of your favorite brand and wait patiently. I've signed up with Cleobella, Freepeople and SpellDesigns to name a few and don't forget about the smaller brands too. If you don't like your mailbox to overflow with mailings make an extra email address. I have a special Yahoo account just to receive these emails, without them getting stuck in my private email.
More style tips you will love
The best vintage store in Copenhagen you have to discover
Don't miss this! Native American jewellery with a touch of vintage
TREASURE YOUR BOHO FRIEND
If you think my closet is a dream, wait till you see the boho closets one of my best friends has! It's a true paradise! Each time we get together we swap items from our wardrobe. Things we don't wear anymore or just don't fit right. We have the same passion for boho and like the same designers. By swapping clothes you can change your wardrobe without spending a dime! Treasure your boho friend!
LOOK FOR SMALLER BRANDS
Big brands can be very tempting with their mouthwatering collections, but my best stuff comes from smaller brands. Look for your favorite boho girls on Instagram and Facebook and see what brands they are wearing. From Europe take a look at LoveForever, Ibizatrendy and Flordevida which sell really nice boho stuff for affordable prices. Bigger brands like Mango and Zara are also good for your budget.
VISIT MARKETS
Especially when traveling you can get a lot of inspiration on markets. With prices much lower than in average shops you can really strike a bargain. On Ibiza try to visit one of the many Ibiza markets or in Amsterdam go to the Westermarkt on Saturday or just Google your way to the nearest market. And even if you don't end up buying anything it's a nice way to meet the locals.
COLLECT YOUR JEWELRY
No boho outfit is complete without a fair amount of jewelry. The more the merrier! My personal favorites are Nepalese rings which I find in the most wicked stores all over the world. I just google for Nepalese store in the city I'm about to visit and wallah! The best stores are filled from floor to ceiling with rings and necklaces, incense, jewelry boxes, a bit messy and absolute chaotic! Those are my favorites! The prices are usually not fixed so expect to bargain. If you see boxes filled with the same rings, you should question the quality. A good Nepalese store only has unique items. I got my most precious ring from a Nepalese store in Sitges, Spain and on my last trip to Boston I found 2 amazing stores just behind Cambridge University. So Google!
ACCESSORIZE TO THE MAX
Adding some style with the perfect accessories can give your boho style that extra umpf. Think about floppy hats, boho gilets, embroidered tunics and big bags. Again most of this stuff I get from vintage stores and most of my hats come from Zara. Online stores like ASOS are also good for boho bargain hunting.
LET YOUR HAIR DOWN
The good thing about boho hair is that you don't need to over style it. Some loose wavy curls and even showing your roots is fine. Let your hair dry to the air and just curl the ends if your hair is really out of control. Fix your hair with some wax to set the curls and that's it. If you do like to get a color touch up, rather go for a ombre look instead of a full highlighted look. No need to run to the hairdresser every 6 weeks which will save you an awful lot of money!
What do you do to save money on your look? Do you have any boho budget tips to share? Drop me a comment below! Would love to hear from you!
LIFE IS TOO SHORT TO BE BORING

EXPLORE AND BE HAPPY

XOXO YVON
btw, if you want to get my exclusive newsletter, sign up here