I thought long and hard about sharing this story. The story about my burnout. I had never been through anything quite as deep, or frankly, personally frightening as my burnout over 2 years ago.
Burnout moves fatigue and the darkness from a place where it was in your control to a place where you can simply no longer control either. Why did I decide to share my story? I've heard from more than a few of you who have let me know that you're in the midst of burnout right now and I hope my story will help you.
So how do you get back from burnout?
Let me share my personal journey. I'm not an expert by any means and I know everyone's recovery will be different, but these are the 8 keys that helped me on my road to recovery. Sit back because this is gonna be a long one…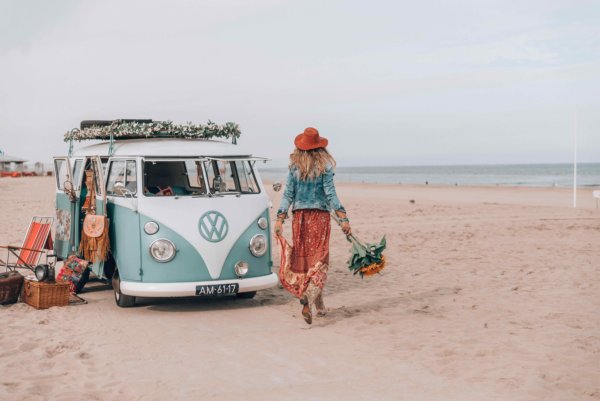 WHY DID I BURNOUT IN THE FIRST PLACE?
Let's start at the beginning. Why did I burnout in the first place? Long story short. I was one of those women who thought to be invincible, I was the multitasking queen, ready to work day and night always having a smile on my face. Don't get me wrong. It's not the hard work that gonna break you, it's the stress that comes with it. After my father died almost 3 years ago I was physically and emotionally drained. The last 3 years of his life he had been in and out hospital always having me worried if he would make it to the next day. My phone would literally be taped to my hand afraid to miss one call. During that time I also decided to leave my job and become a full-time blogger. Yes, I know, my timing was great.
Don't get me wrong. I loved taking care of my dad and being a blogger also meant I could plan my own day and spend a lot of time with him. This would often mean I would drive to his home early in the morning, eat with him, go back in the afternoon and do a photoshoot and edit in the evening. Since I didn't sleep for more than 4 hours a night I would often answer my emails and DMs at 3 am. Put this show on repeat for more than 3 years. Even I blind man could see I was a train ride about to crash.
After my dad died I should have taken some time out. I should have taken the time to sit back and get back on my feet. I should have allowed myself just to rest and heal. But I didn't. I felt I had no excuse anymore to not work to the max. So for the following 9 months, I would jump in and out planes, going from one collaboration to the other, but my battery was already empty. More than empty. And then I hit the wall.
NOT AN INSTANT CURE
And as far as time goes, for me, there was no instant cure. It took about 2 months for me to move from 'crisis' (20% of normal) to operational (maybe 60%). It took 6 months to get from 60% to 80% of 'normal'.
Finally, it took me a full year to finally feel 100% again – like myself. Even a new self.
8 KEYS TO RECOVER FROM BURNOUT
Along the way, these 8 things helped me immensely. And while your story might be different, I offer them in the hope they might help you even in some small way how to recover from burnout;
1. ACCEPT & TELL SOMEONE
This was hard. Admitting that you're not invincible. That you have reached your breaking point. But pride is probably what made you burn out in the first place.
Swallow your pride and tell someone close to you that you have a problem. It's tough, but it's the first step toward wellness. When you admit it to others, you also finally end up admitting to yourself. Acceptance is your road to recovery.
2. GET HELP
You can't do this alone. Really, you can't. I had a circle of friends who walked the walk with me. You need to talk to your doctor. Get yourself checked and ask for a specialized counselor.
My husband was an incredible and exceptional rock. I'm not sure I would have made it without him. I'm a girl who likes to solve her problems alone, but this one was so much bigger than me. Get Help!
3. LEAN INTO YOUR FRIENDS
Yes, Friends are your holy grail. You need them. Lean into your friendships. Friends came to the house to take me for a walk. They called me. They send me flowers and daily messages. Real friends care about you. Lean into them.
4. REST
I was so physically and emotionally tired when I burnt out. I was so tired I didn't even know how to make it through the day. I slept for about 10 hours a day for a month straight, adding naps to my daily diet on top of that. Give your brain a rest from all social media. Allow yourself to be switched off for a while.  Your brain has probably been on high alert for the last year(s) so give yourself a break.
5. GO OUTSIDE
For me, the best way to calm my mind is to be outside. Because I had no energy at all I started with just little walks. Even 5 minutes a day would make such a difference. I slowly started to add minutes to my walking routine even asking friends if they would join me. Being outside, smelling nature, feeling the wind and the sun on your face is the best medicine. Trust me.
6. EXERCISE
Yes, I know. When you are too tired to even walk from your bed to the couch exercising is the last thing on your mind. Still, it's very important. Having a strong body does wonder for your mind. We spend so much time behind our laptops every day we have forgotten how it is to move. I started using the 7-Minute-app at home. In the beginning, I couldn't even make it to 3 minutes, but every minute more made me happy. Follow yoga lessons online. Anything. Just move!
7. TAKE BABY STEPS
You burned out for a reason and all you probably want now is to get rid of it as fast as possible. That's not gonna happen. If you have burned the candle on both ends it's gonna take time to recover. One step forward, two steps back. Just take baby steps.  You will get there.
8. HAVE FAITH
My first 2 months were an absolute roller coaster, but I would constantly tell myself " this too shall pass". Have faith in yourself. You are stronger and more resilient than you think. Even if you don't feel like it right now, you will get back on your feet and even a better new self. I started reading a lot about burnout and how to overcome it. It made me realize I wasn't the only one. Nore are you! Have faith.
And now?
It took me a whole year to recover from my burnout, but when I did, I was determined not to burn out again.
The question was…how?
So I started reprioritizing my time, managing my energy, saying NO, figuring out how to stop getting my priorities hijacked by other people, and in the process, I became far more productive, so now I allow myself time to read a book, go to the gym and I work normal hours on my blog. Still having enough time for my family, friends, and for myself. I stopped running and started appreciating. I've learned it's OK to stand still and grieve the loss of a loved one. My birthday is in a few weeks and I can honestly say I've never been so happy.
I even get eight to nine hours of sleep these days and I never answer my emails at night again.
I hope my story helps if you to recover from burnout. Maybe you are going through it right now or if you have experienced burnout in the past. Please feel free to comment below and I'm also more than happy to answer your emails in private.
Stay safe,
Yvon