Things to do in Marrakech without the crowds
Marrakech is hot! It looks like every Instagrammer and tourist just wants to be here. And I'm not surprised. Marrakech is truly something unique. This colorful city in Morocco gives you the feeling of stepping into Aladdin's cave. But it's popularity comes with a price. Standing in line for an hour to get tickets to the Majorelle Gardens or trying to find a table in that one favorite restaurant are things to do in Marrakech that everyone writes about – and recommends. So the question is, what are the things to do in Marrakech without the crowds and off the beaten track?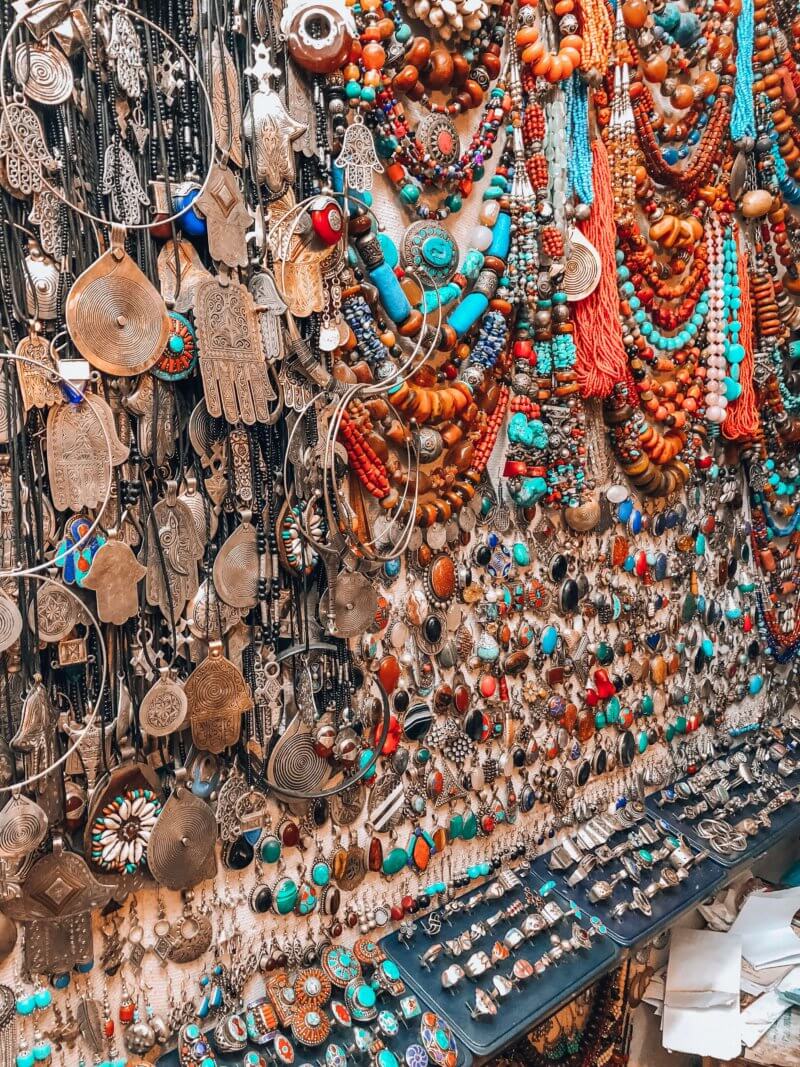 1. Visit Ben Youssef Madras: a beautiful old koran school
Ben Youssef Madrasa: You simply can't miss this beautiful old koran school. Although this place is very popular it's also quite big. Try to go early in the morning or at the end of the day to enjoy its beauty.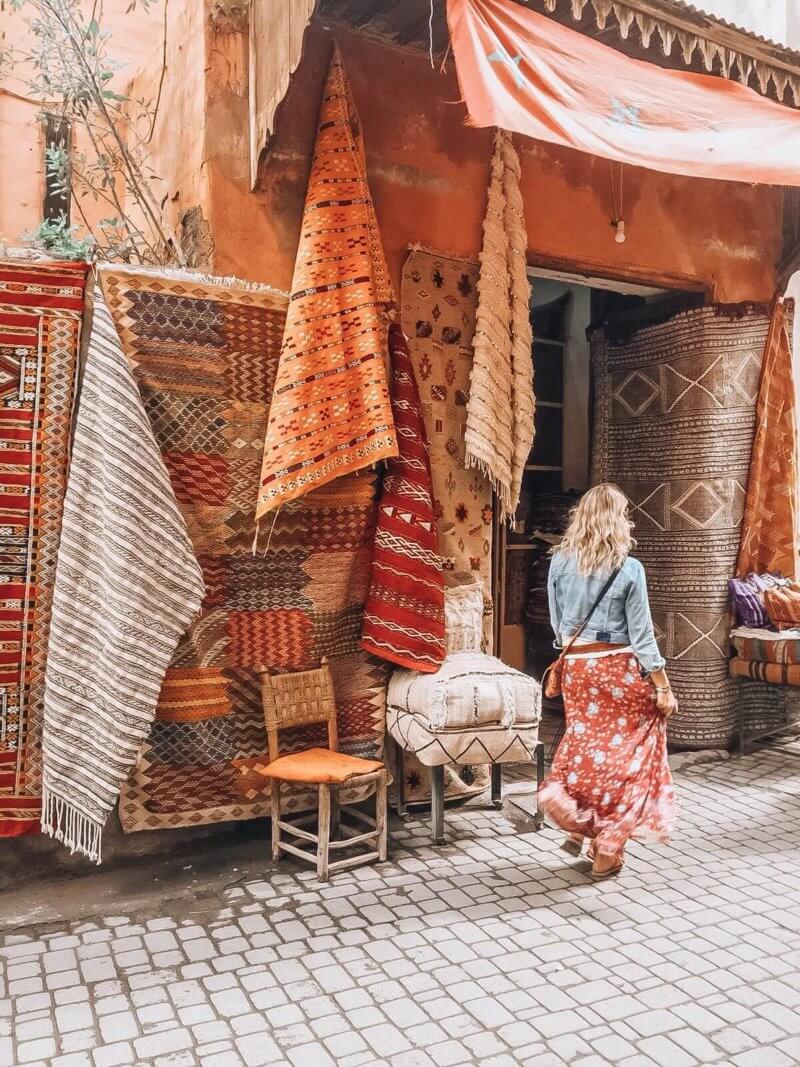 2. Shop in the south part of the Medina
Your list of things to do in Marrakech should definitely include shopping at the southern Medina. Unlike the center and the north part of the Medina, the south part close to the Bahia Palace has a whole different vibe. The shop owners won't push you to buy their ware and will let you look in peace when you're looking for that one special bag 🙂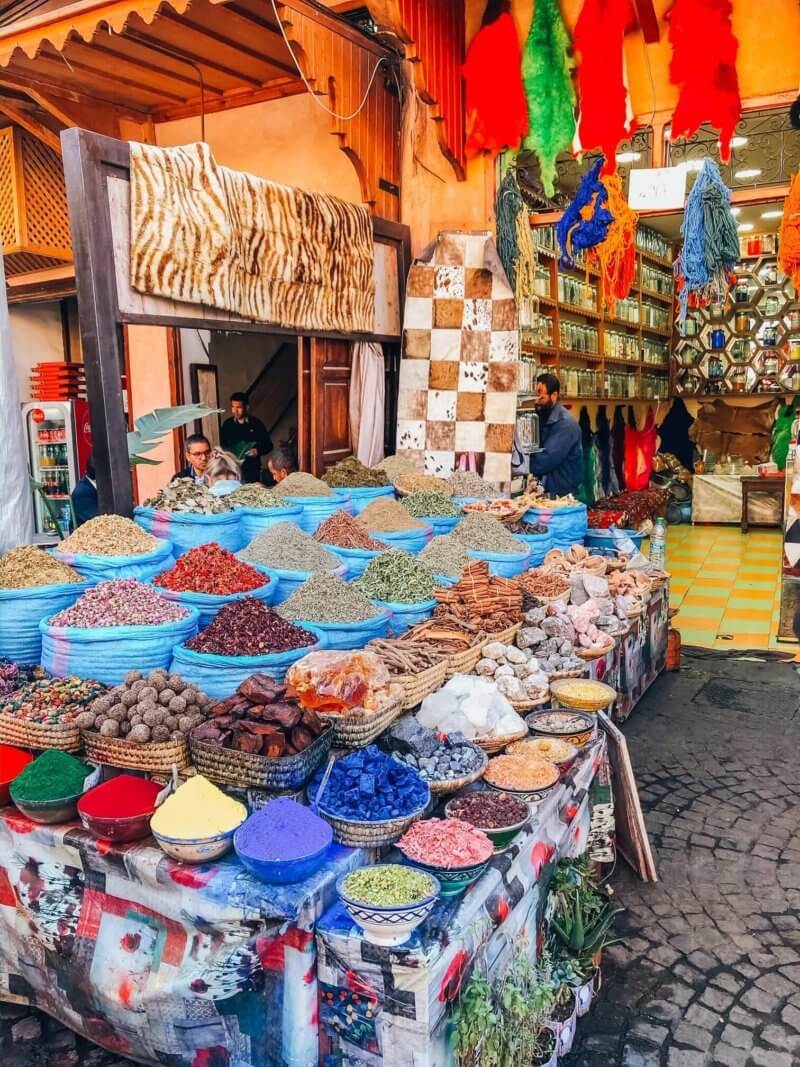 More on Marrakech you will love 
A little piece of heaven in Marrakech – Riad Be Marrakech
The things NOT to do in Marrakech 
3. People watching while enjoying delicious Moroccan pancakes and mint tea
Drink mint tea with Moroccan pancakes at Cafe des Epices: A perfect place to take a little break and watch the people go by. The Moroccan pancakes are super delicious here! If you really like some peace and quiet head over to the rooftop and enjoy the view.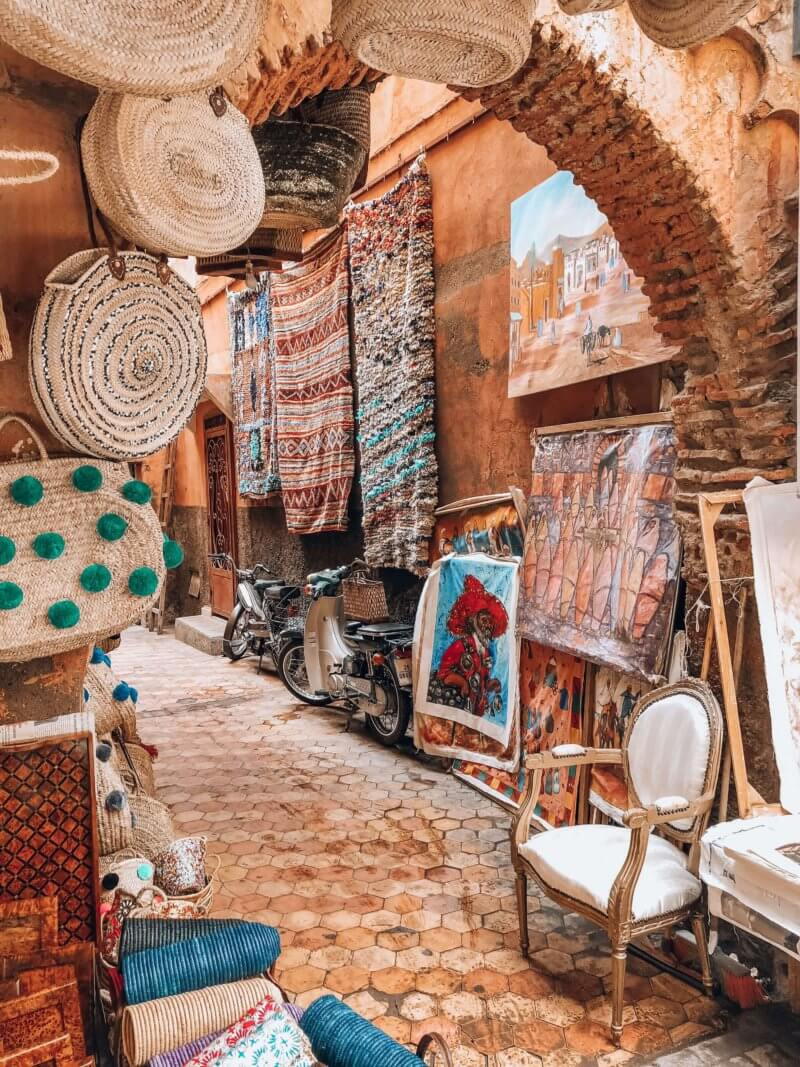 4. Rooftop restaurants and colorful spices
Visit the Spice Souks: Unlike the overcrowded Jemaa El-Fnaa square this little Place des Epices is way more relaxed. Colorful spices everywhere and some very nice rooftop restaurants to choose from. Probably one of my favorite places in the city.
5. Visit the stunning Bahia Palace
Bahia Palace: If you only have time for one place to see in Marrakech, this is the one. This stunning palace in the south of the Medina will steal your heart. After paying a small entrance fee you enter the palace through a lush garden. It may seem crowded here, but no worries. After this garden, everybody will spread out over the entire grounds and disappear. Great place to take pictures!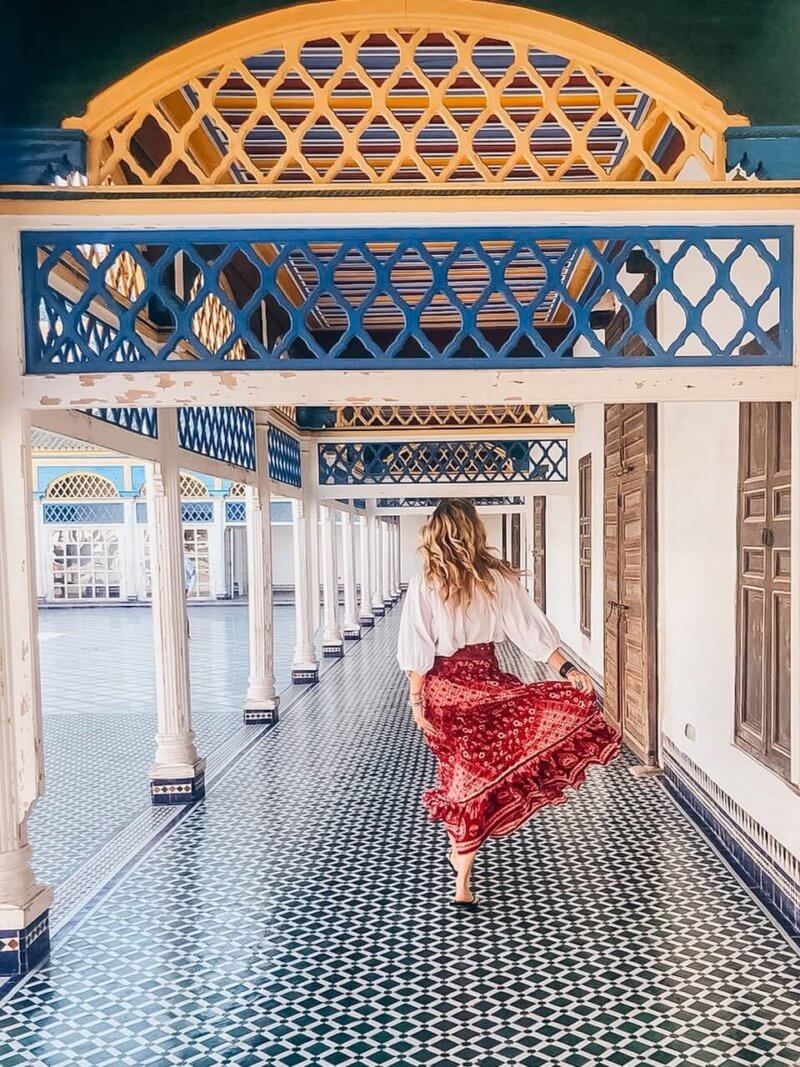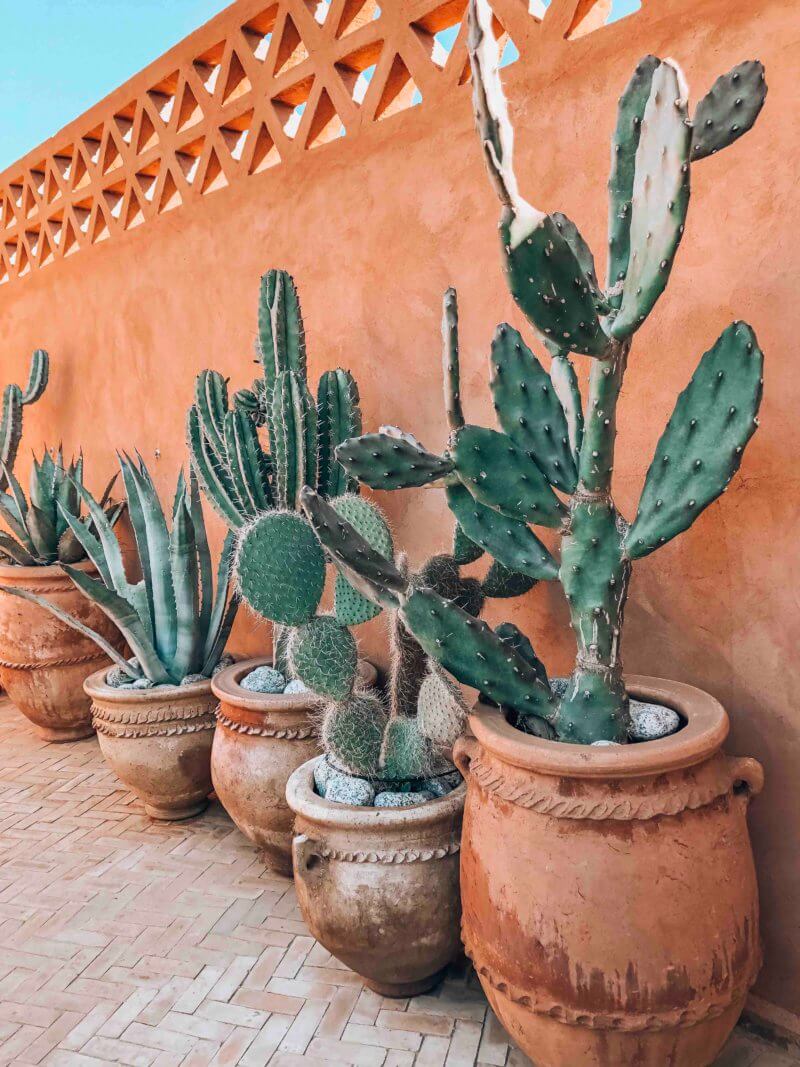 6. Local and stylish: dine at restaurant Dar Marjana
Eat at Dar Marjana: instead of eating where everybody is eating go somewhere new! This restaurant is a more fancy option and the food is just superb. On the first floor they serve a Morrocan dish including music and entertainment, but if that's not your cup of tea go to the second floor where you can enjoy in silence 🙂 Don't forget to try some Moroccan wine when you're there.
7. Enjoy incredible city views from a rooftop
Take time to relax from a rooftop: When you book your hotel or Riad make sure they have a rooftop. Seeing the city from above is so relaxing! Especially after a day of sightseeing and shopping, it's very nice to just do nothing for a few hours and watch the sun go down behind the mountains.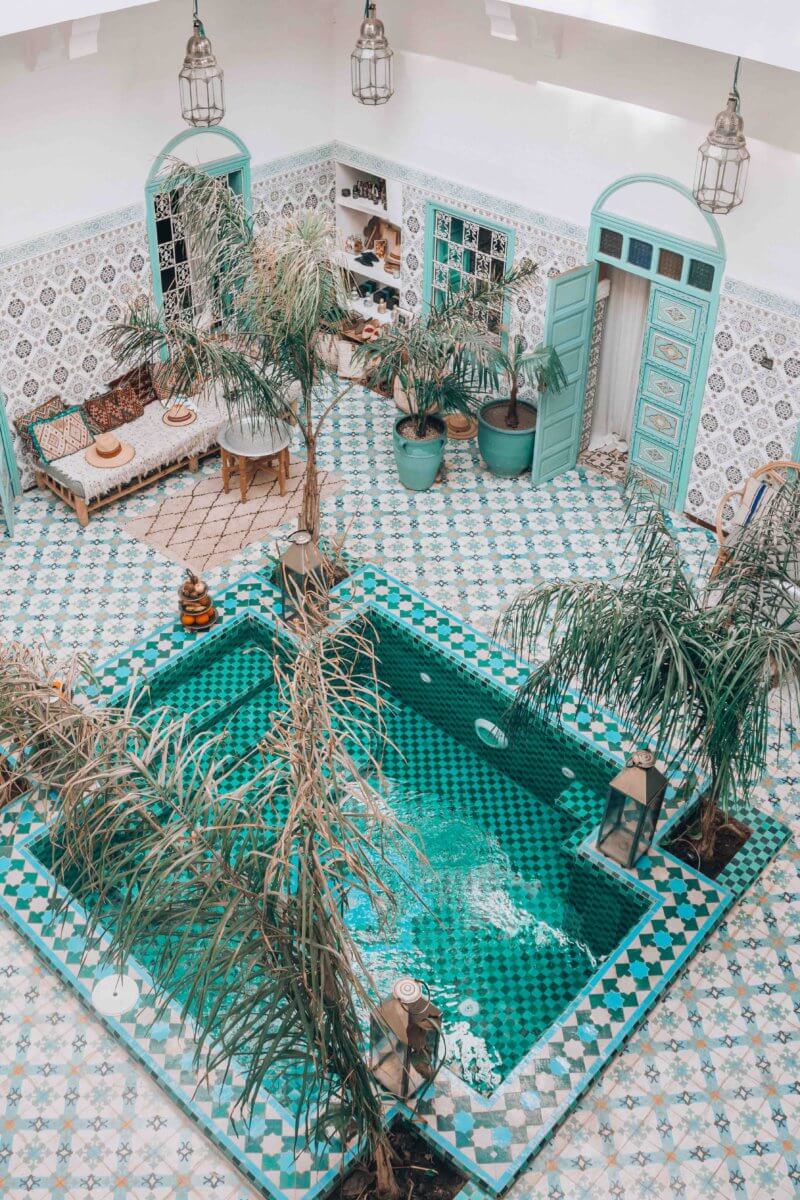 Where to stay in Marrakech
Marrakech stole my heart upon our first meeting and I'm happy we've met again since our first date. Besides the many awesome things to do in Marrakech, there are also beautiful Riads that are worth your attention. My absolute number one place to stay in Marrakech is the mind-blowing Riad be Marrakech. The owners, Mo and Nicole, are absolutely lovely and make you feel right at home. When you choose to stay in Riad be Marrakech you'll say yes to an incredible stay in the middle of the Medina in an authentic Moroccan accommodation with an ambiance that makes you never want to leave again. Also, the incredible rooftop offers an amazing view of the city.
Check rates and availability for Riad be Marrakech >>>
Have you been to this beautiful city already? Let me know what your favorite places were! Would love to hear from you!
Happy travels,
xoxo Yvon