Nailing your boho-chic looks in winter is not difficult. All you need to have are some key essentials and your willingness to be creative, there is no reason why you shouldn't look perfect in your boho outfit during the chilly months. So let's just dive in and let me share some of my favorite bohemian winter styles with you!
Bohemian winter styles you will love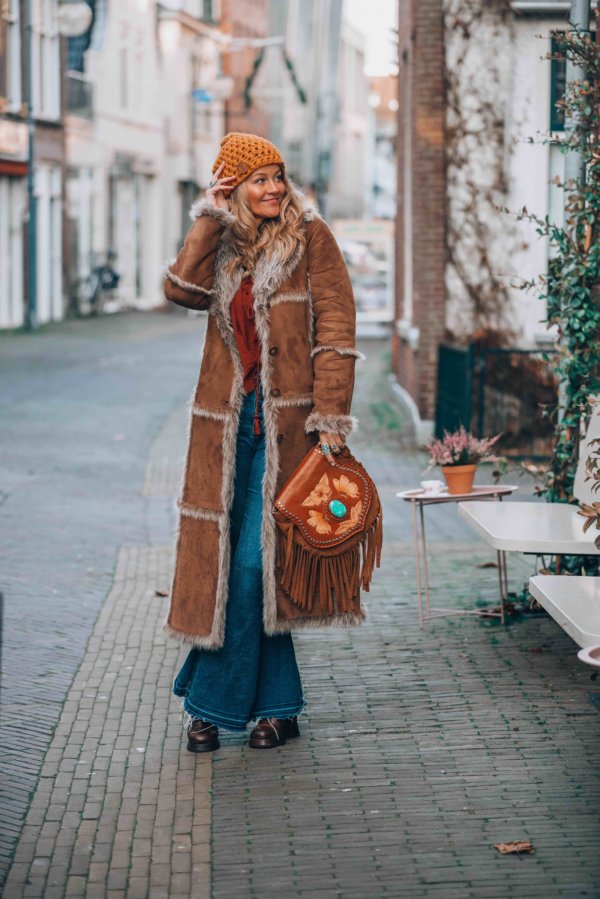 Vintage Afghan coat | jeans from FreePeople| bag from Jodilee 
Say Yes to The Layers
One of the most distinctive features of bohemian fashion is layering. And you can use this to your advantage during the winter. Layering chunky sweaters and cardigans over long dresses, a thick wool jacket over printed tops, a maxi skirt over warm leggings, the options are limitless. Not only will this help you nail the ultimate boho-chic look, but you stay warm with the extra layers.
A word of caution here – You need to be smart about picking the right garments for layering. Too many layers can make you look like you are drowning in your clothes, especially if you are on the shorter side. To counteract this, wear heels or some platform boots with your look!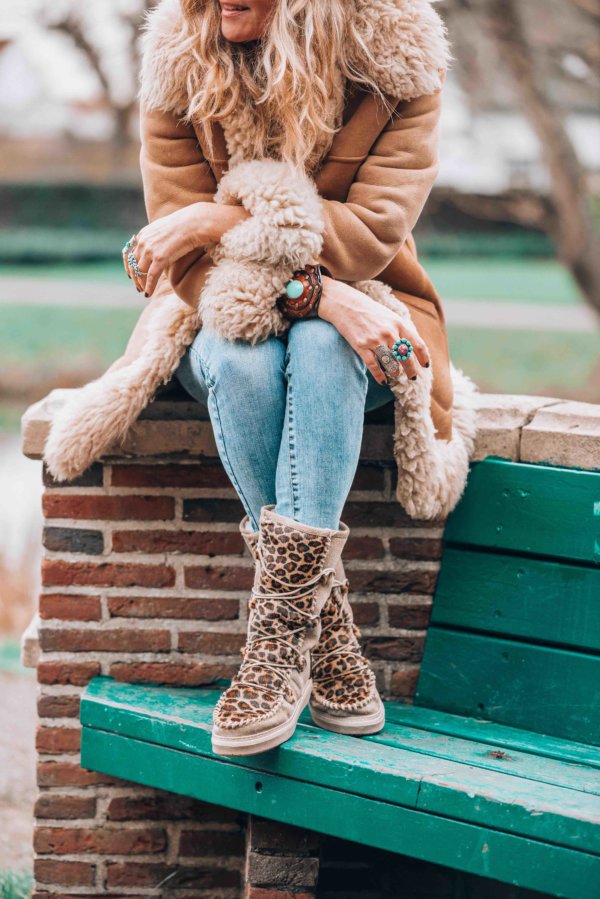 boots by Karma of Charme 
Swap Sandals For Boots
There is no denying that strappy sandals are the perfect bohemian footwear. But they are not very functional when the snow hits the streets. Bring out all the boots in your boho arsenal this winter. It is the perfect time to put them into action: plateau boots, cowboy boots, knee length boots, and even better – vintage boots!
Knee-length boots with jeans, ankle boots worn with long dresses, and maxi skirts are just the perfect outfit combinations for a chic winter look. Combat boots and biker styles are great options for running errands while sheepskin ankle boots keep you warm at home or in the office. These are not only practical, but they raise your boho-chic factor significantly.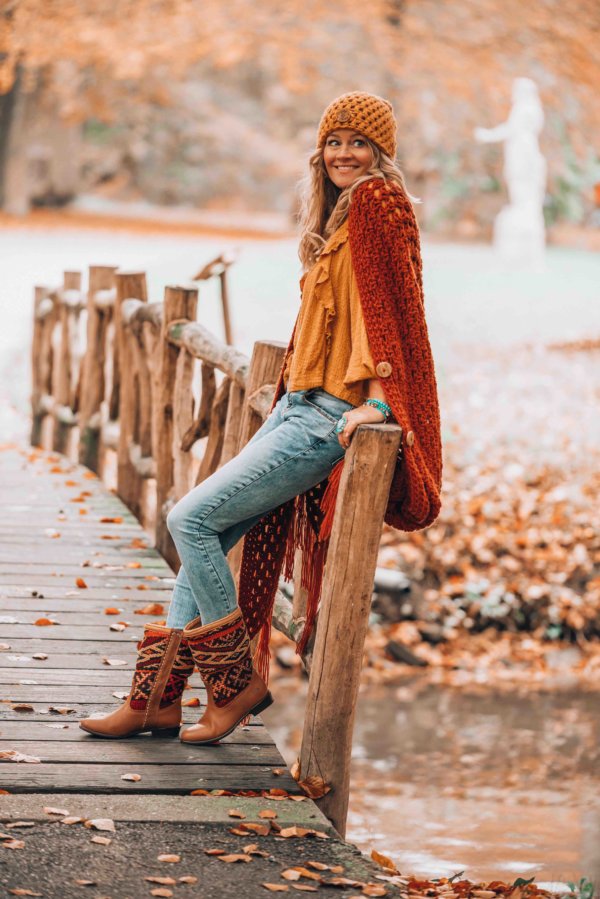 knitted shawl by @gipsy-daisy-constance | boots by The Kindreds
Chunky Knits
Everyone loves the warm cozy feeling of wearing chunky knits – cable knit sweaters, high-neck sweaters, long-line knitted sweaters, and so on. They are excellent at keeping you warm, but they are also a great boho outfit piece. You can wear them on your skinny or flare jeans with some fab boots. But you can cleverly style them over a maxi dress too!
This goes without saying but when you wear a big fluffy knit on top, try to keep the bottom part slim-line, so you don't end up looking shabby. A long line cardigan with a dress and belted at the waist keeps you looking polished and boho chic.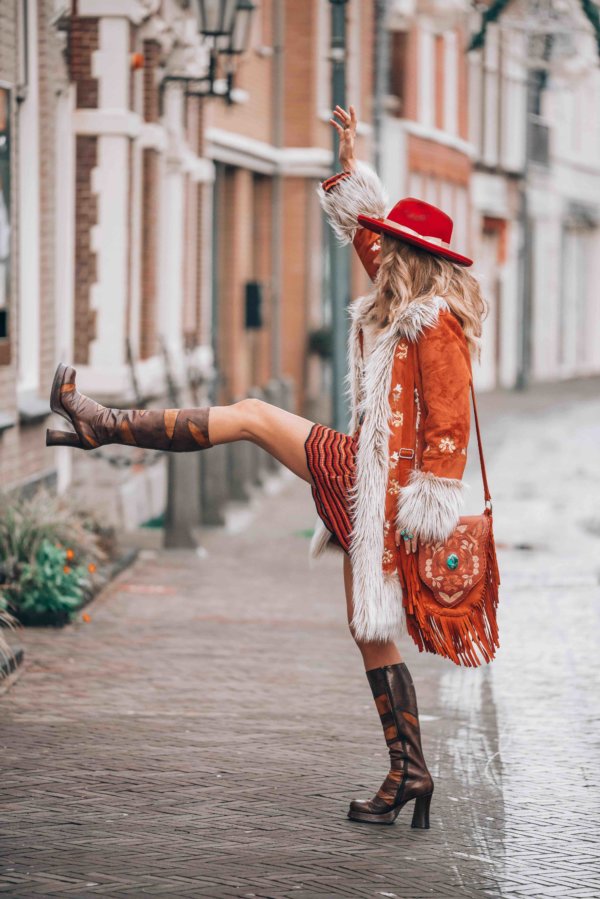 Boots are vintage from Etsy | Penny Lane coat by Tree of Life
Add Outerwear To Your Outfits
Outerwear not only adds an element of stylishness to your outfit but most importantly, it will keep you warm and protected. Because if we don't like one thing during winter and that's being cold!
Oversized wool coats, faux fur jackets, Penny Lane coats, and denim jackets are essential winter boho garments you can add to your outfit. You can wear them with any type of outfit and maintain your style! My personal favorites are the vintage Afghan coats which I simply shop on Etsy!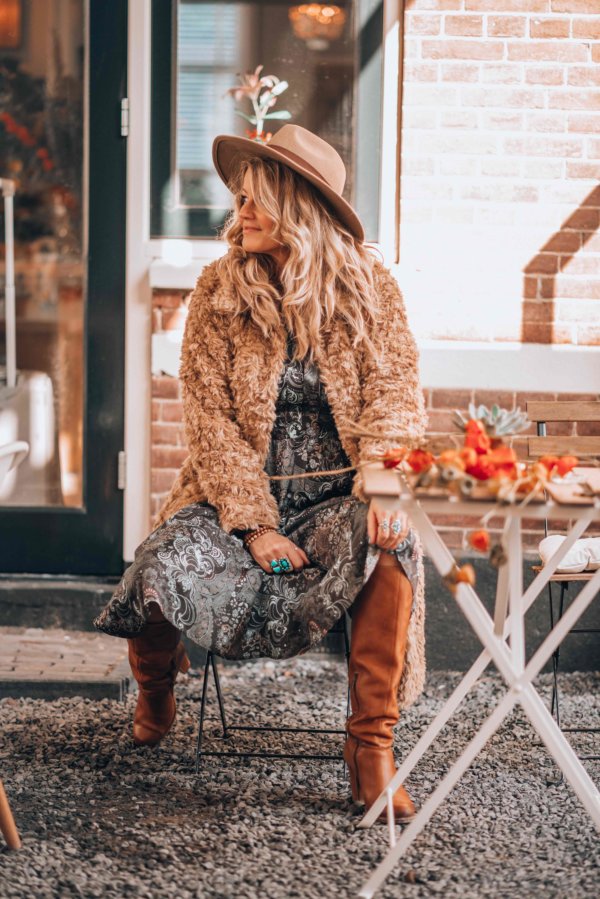 Vintage Rules
I can't emphasize it enough! The best bohemian winter styles always include some vintage! I'm a big fan of these super warm Afghan coats, Penny Lane coats from London, and even the patchwork boots you see me wearing in a lot of my pictures some from a second-hand store. For me, it's just the best way to give your outfit a real 70s vibe. If you like to learn more about the best bohemian winter brands click here for my latest blog.
I hoped you like my favorite bohemian winter looks! Please let me know how you like to dress during winter and share some tips! Or even better ..let me know where you are from! I would love to know!
With love & light,
Yvon