The Best Bohemian Bloggers to follow
It has been over a year since the last list of favorite Bohemian Bloggers so time for an update! Some girls are still on the list, others have changed their style completely turning away from boho. Following 10 bloggers (in random order) have created their own unique style all with a bohemian touch of course. Get inspired!
The beautiful Australian Helen has been ruling boho bloggers world for years. With her outstanding pics and bright blonde hair, she is probably the most  hippie spirited blogger of all times. With over loyal 700k Instagram followers and her own webshop she is a true inspiration. Follow Helen here.
American Andrea is an international touring and recording artist. Her blog and Instagram Boho Bunnie was created from her passion for art, style, and music. A true hippie at heart! Flaming red hair and an unmistakable eye for boho fashion. Watch this girl!
This sweet girl from Barcelona is not only a blogger but also a very talented designer. She has her own shoe and clothing label made for the bohemian fashion girls. If you can't find her in Barcelona she is discovering Marrakech or getting inspiration on Ibiza or Formentera!
Born and raised in California, Rocky is a beach girl at heart. Through her modeling career, she is happy enough to travel and explore the world never losing her gypset lifestyle. Over 900K followers on Instagram and still growing! If not at Coachella Rocky is at the beach having fun!
Sally is a painter, artist, talented yogi and regular wanderer. Her ultimate goal in life is to make people happy and with her inspiring pictures, she is doing just that. Sally is all about being free and expressing yourself.
Beautiful ginger girl on the beach. Well, that's her current hair color 'cause Nikia changes her color about every other fashion shoot! She has her own unique look on fashion and is not afraid to stand out. Life is never boring with Nikia! Currently, her Instagram has over 31k followers and there is no stopping her.
U.S. based Molly just turned 22 and is already the proud owner of a trendy boho blog. Her clean pictures are all about sand, beach, and sunshine, showing off the most beautiful beach wear and boho dresses. Currently, Molly is living in Los Angeles and flies up and down to New York to her family. Her boho lifestyle makes you want to move to California straight away! Check out Molly!
Audrie began posting on Instagram a little over 3 years ago showing her Southern California lifestyle. With her free interpretation of boho and street style, she has created a very unique style. Check out her blog as well here!
Hard to miss beautiful Sera is a fashion girl at heart. Starting her career in the fashion world she has made boho fashion her own. Spending most of her time road traveling, photographing and documenting her fashion adventures. Sera is a magical girl, who will inspire you through every picture. Instagram at 10k+ followers and counting.
Sara Louise Waiste is a London-based fashion and lifestyle blogger. Her love for vintage and the 70's have turned her into a true fashion icon. Not only she has a very successful blog but she also runs her own vintage store online! For more on her vintage click here.
And last but not least! I thought long about adding myself to the list, but since I got voted in the top 30 of best boho bloggers I thought it was about time! I've been working on Ibizabohogirl for almost 3 years now with more than 240k followers and still loving every minute of it. Thanks for joining me on this crazy journey and your support.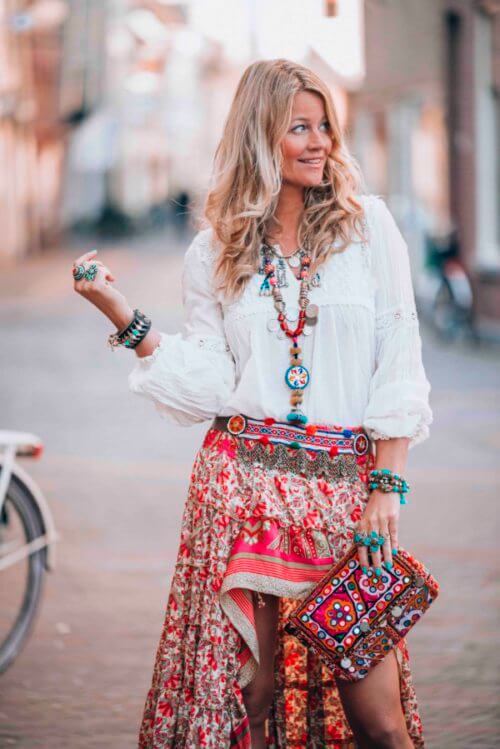 I hope you liked my update for Bohemian Bloggers! Let me know who your favorite Insta girl is so I can add to the list!
With love & light,
Yvon
btw, if you want to get my exclusive newsletter, sign up here 
SaveSave