Hi Girls! It's been a while since I wrote my last blog on the best boho girls out there.  A lot of things changed since then. Some girls have completely altered their style and other boho girls have joined the boho tribe. So I figured it's time for an update! Let's meet the 10 most awesome bohemian influencers out there!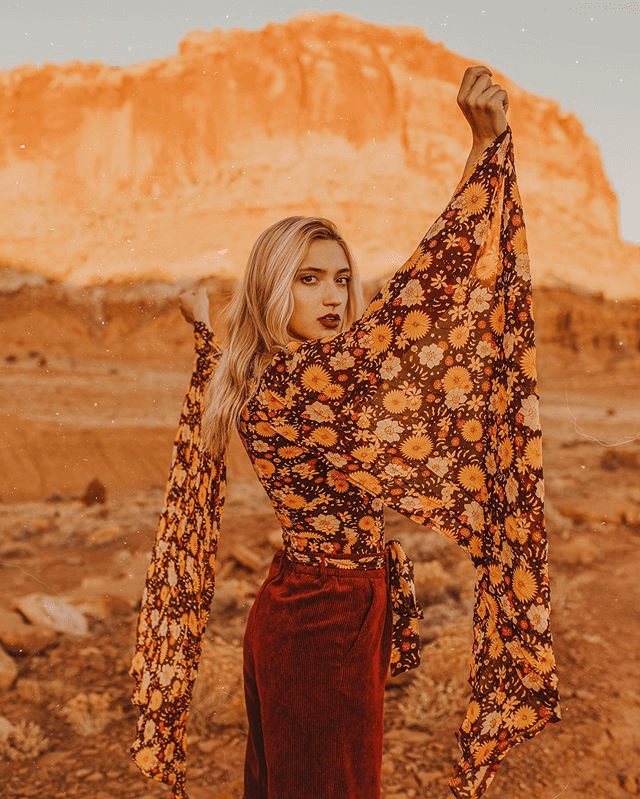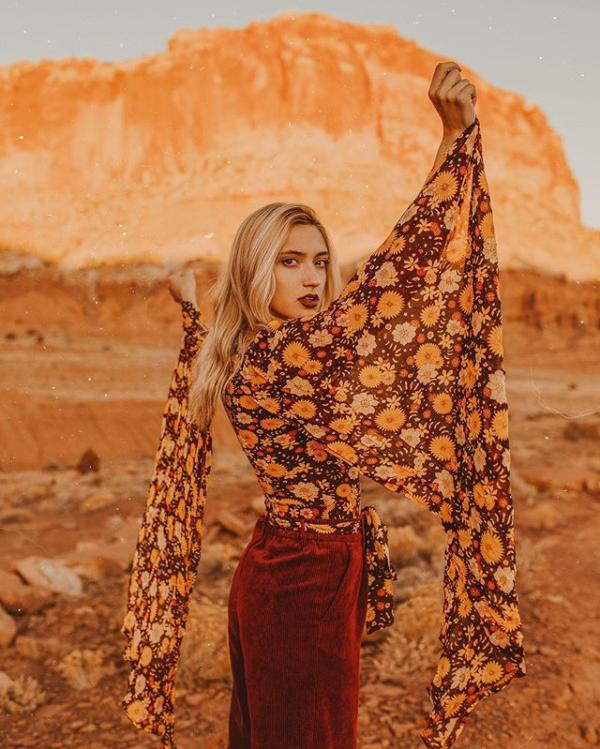 Who are the 10 best bohemian influencers for 2021?
I have collected my own favorite list of must-follow bohemian fashion influencers you should definitely be following for 2021. Girls I've been following for years. Be inspired by their own unique style, boho lifestyle, and dreamy travels.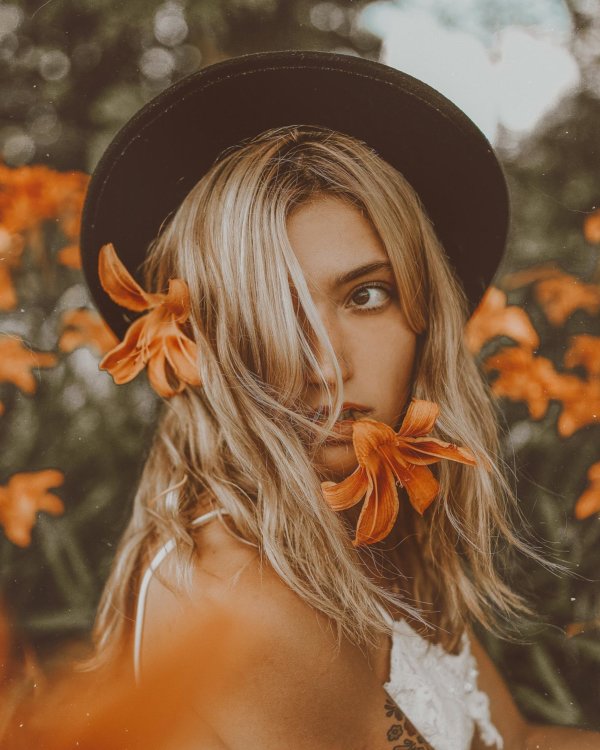 Rosemary Retro
This cute girl from Rochester, New York started blogging from her RV together with her Instagram husband. Rosemary has been sharing her love for travel and fashion while going around on her roller skates! If you love the 70's, that real retro vibe you will love this girl! You can follow her on her blog or on her booming Instagram account!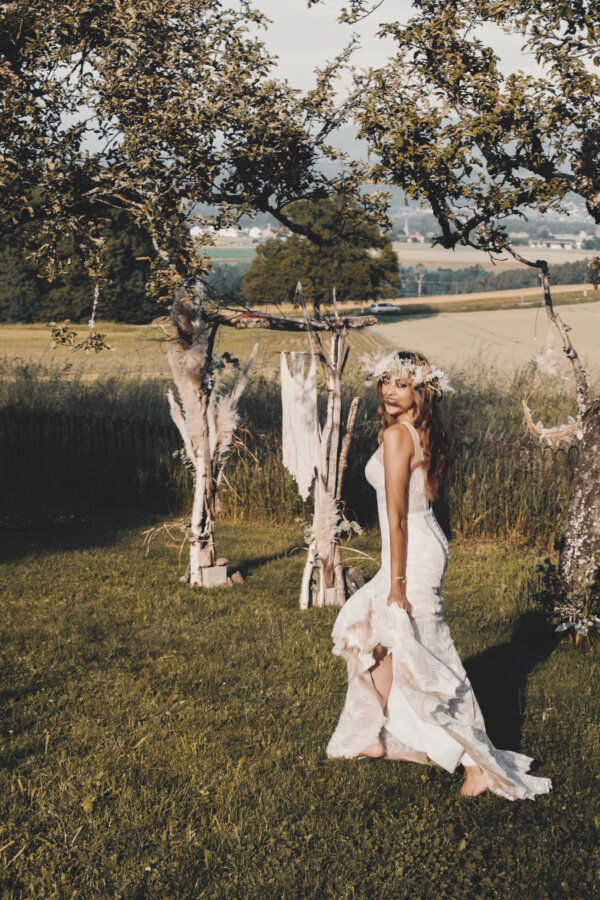 And last but not least one of my latest inspirations. The gorgeous Celine from Switzerland.  This French-speaking beauty first started out with her own jewelry store and decided to take up blogging only recently. With her love for travel, Celine has visited the most beautiful places together with her Instagram husband.  They have their own little van to travel around in sharing their adventures with us. You will not find her in overprized sponsored hotels. Maybe that's why I appreciated her the most. Celine refused to be called ' an influencer' as she simply doesn't want to be an over-polished girl. She is one of the most real girls you will find on Instagram!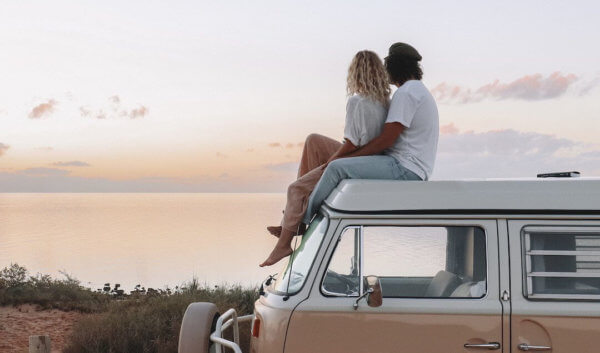 Elise Cook
A boho girl pure at heart and probably one of the sweetest girls I've been following on Instagram. Traveling the Byron Bay coast while living in her hippie van and she and her lovely husband recently opened up their own sunset place called @downtherabbitholewines. Elise is one of Spell Designs' favorite models and I completely understand why. She just became the mother of a beautiful baby girl called Pip! And yes, she is just as beautiful as her mum! Follow the beautiful Elise on Instagram here.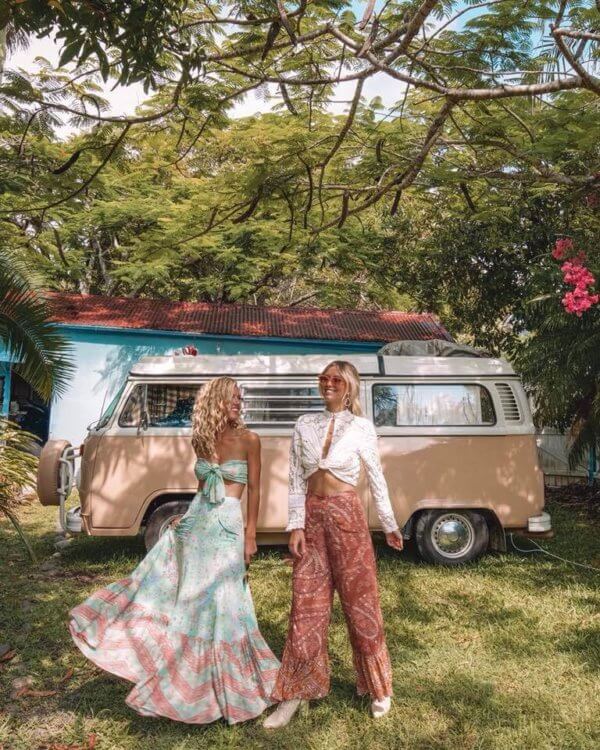 The beautiful Australian Lisa could be a sister of Elise Cook! As well as Elise you will find Lisa in the latest Spell Designs bridal campaign. Always smiling and living the boho dream.  Lisa recently became the mother of a beautiful baby girl called Gigi. Follow this boho girl on her Instagram ( +263K followers)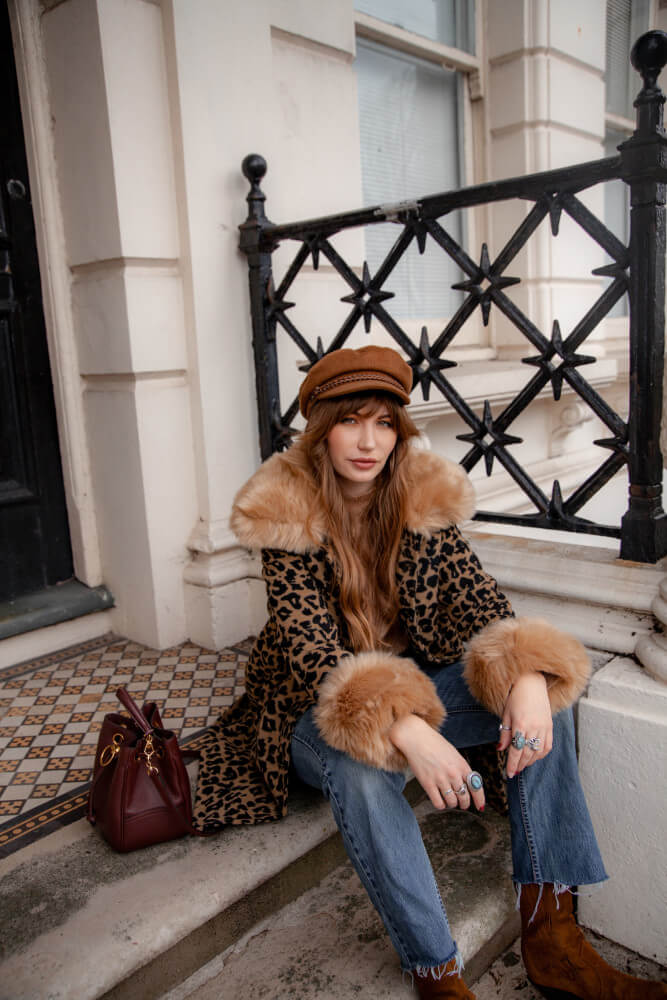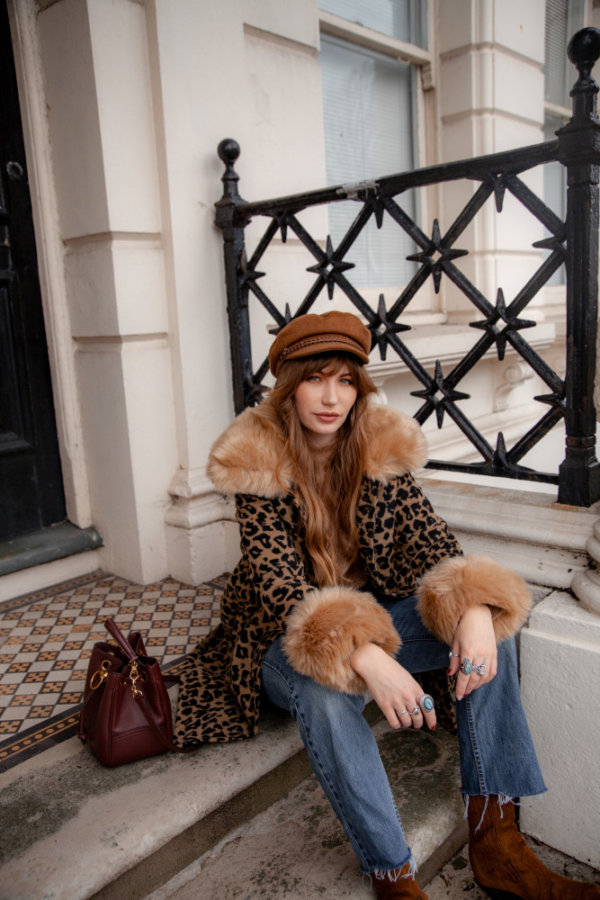 Sara Waiste
This beautiful vintage-loving girl is based in London. With her own blog and vintage store, Sara Louise looks like she just stepped out of the 70s! I admire Sara for her down to earth honesty and holding on to her own unique style. Currently rocking over 100K followers! You can find Sara on Instagram here.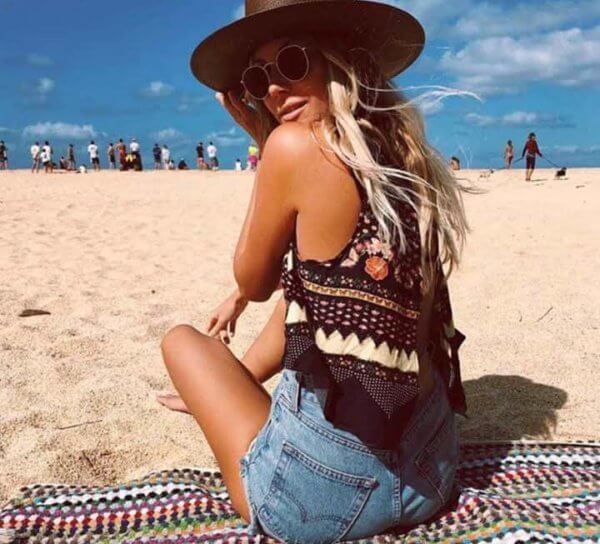 The Salty Blonde
New York-born and Oahu-based blonde Halley is a no-nonsense boho girl. She calls herself a bad influencer and that's just why she is so unique! You will often find her wandering the shores of Hawaii with her ever so gorgeous blonde hair wearing the latest bikini.  This girl tells it like it is. Over 571k followers on Instagram and is still growing!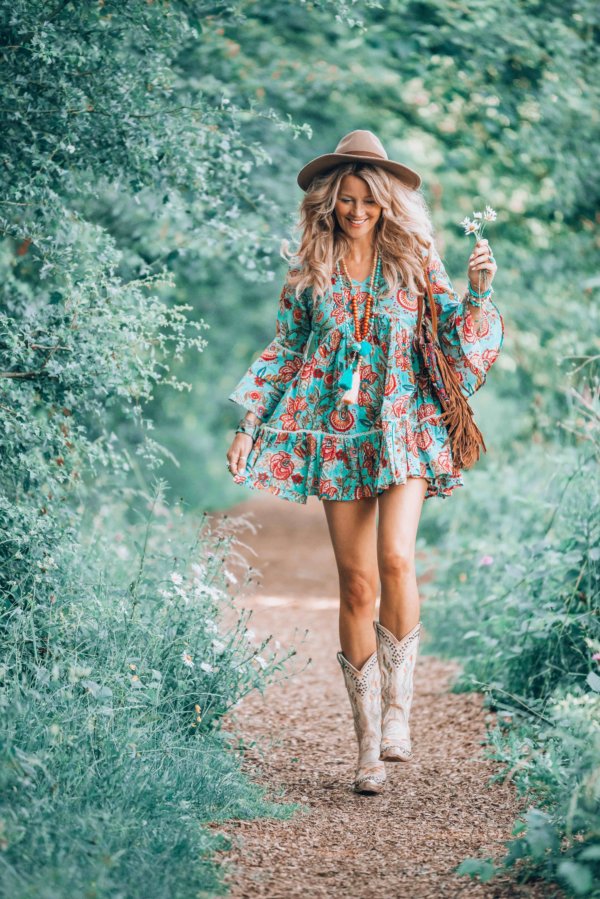 Ibizabohogirl
Yes, that's me! A Dutch girl with a boho heart and a huge urge to travel. Currently rocking over 310k Instagram followers and a buzzing blog. I am happy and grateful to be part of the boho vibe for the last 5 years 🙂 Not the youngest one ( I just turned 50!) but definitely one of the happiest ones you will find on Instagram! Don't forget to have a look at my Pinterest account. I would love to meet you there.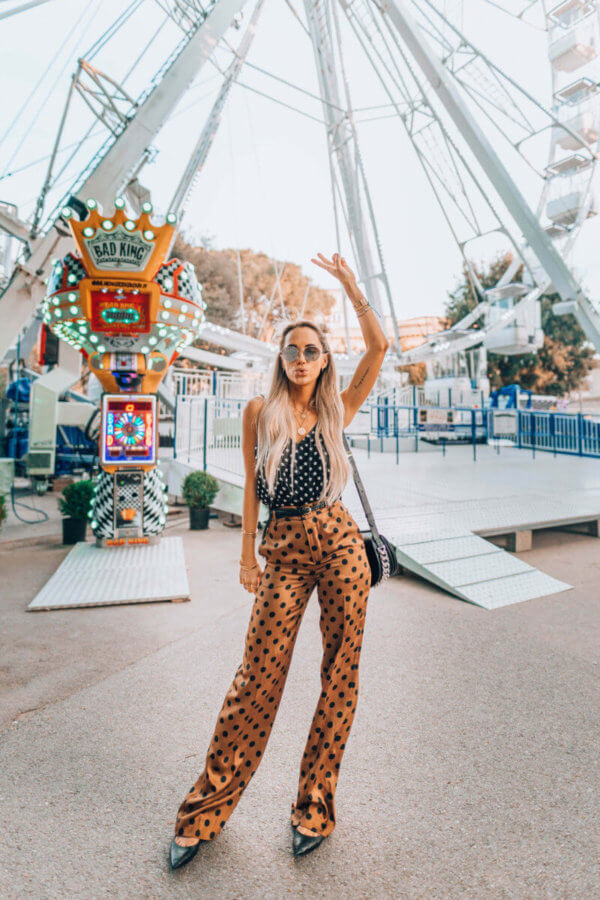 Traveling the world and obsessed with fashion! This girl is ready to take over the world. Her Instagram is picture-perfect her closet is a total dream! She often holds closet sales so don't miss out! Meg recently became a mum with a beautiful baby boy.  Over 448k devoted followers on Instagram.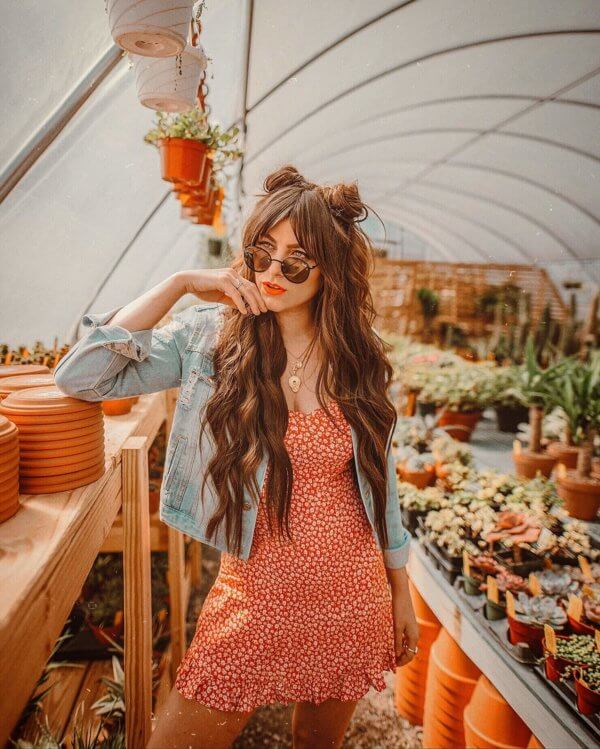 This girl is my latest obsession on Instagram. The beautiful Sara mixes her boho, indie, and a bit of grunge with a touch of western. She is a fashion and beauty blogger, dreamer, animal lover and she recently released her own t-shirt collection! Follow her!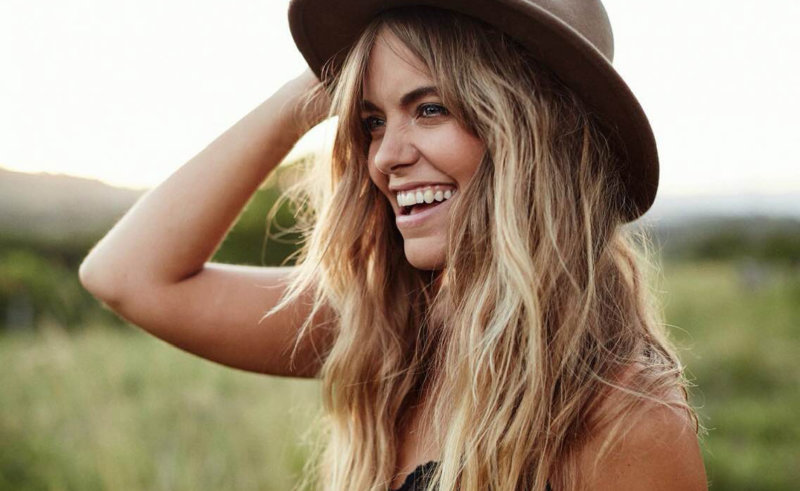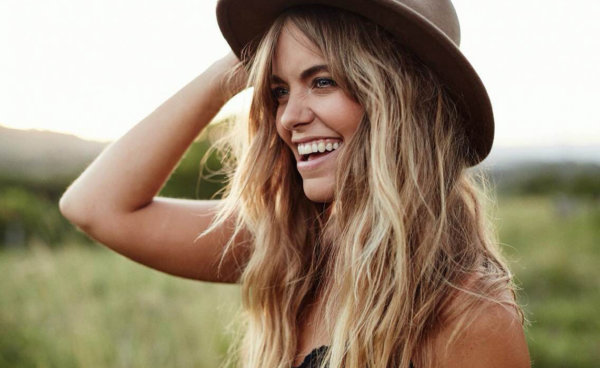 Christina MacPherson
And last but not least the sweet and beautiful Christina. She grew up in Samoa, Fiji, and England before returning to Australia again to study writing and theater at the university. Christina is a down-to-earth travel girl always giving us the most beautiful pictures. A boho girl and lovely soul. She will soon be launching her own webshop Fable & Bloom but you can also follow her on Instagram of course.
Who do you love to follow on Instagram? Who do you think are the best bohemian influencers right now? Drop me a comment and let me know!
With love & light,
Yvon
All pictures are credit to their respective owners