Ever since I wrote about my true age, this post has been one of the most requested posts I've ever been asked to write and it took me a long time because I've felt hesitant sharing — I am in no way a makeup artist but I've been taking really good care of my skin.  Especially when you grow older you really need to dive into the makeup routine you probably have been on for years. Are these colors still working for you? Are the brands you are using still worth investing in our should you go for the more green brands? Should you change your skincare routine when you turn 40 and up? Growing older made me realize that your skin needs a lot more love! So it's about time I shared my top picks for natural makeup for women over 40 with you.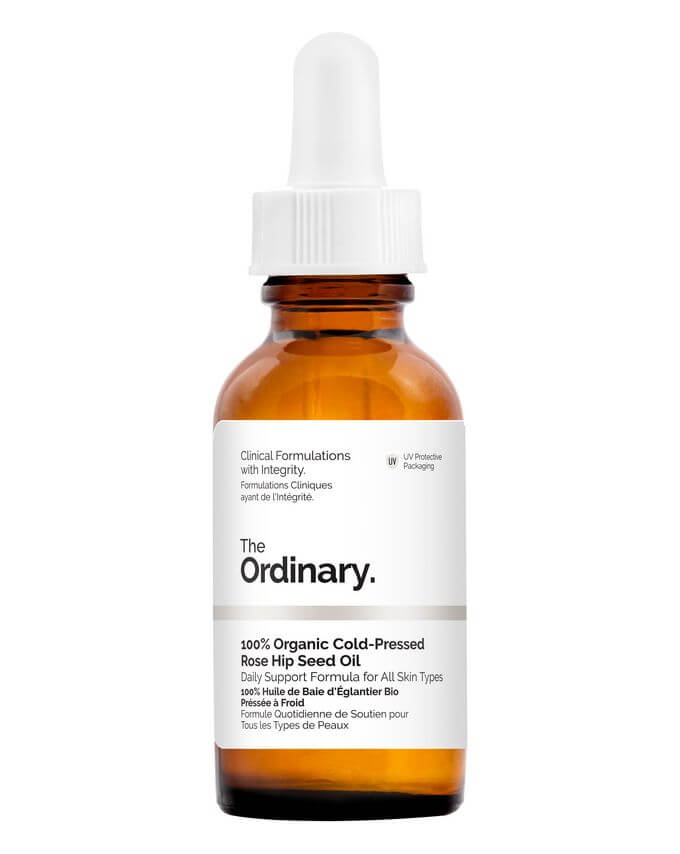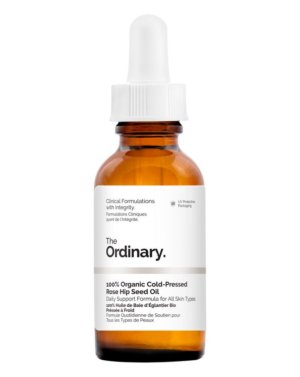 First things first
No makeup is gonna sit well on your face if you don't take care of your skin first. For me, the holy grail is face oil. When you grow older your skin often gets dryer and a normal moisturizer is just not gonna do it for you anymore. My road to finding the perfect one that doesn't make me break out has been long but these are my 2 favorites! Vintner's Daughter: this brightening, firming, and hydrating miracle worker will make you glow like Gwyneth Paltrow. It will also break your credit card. That's why I swapped to The Ordinary 100% organic Rose Hip Seed face oil. I've been using this for the last 3 years and I never looked back. I use it as day and night cream, for my eyes and neck. Just one bottle to do the trick for only 10 euro.
My top tips for natural makeup for women over 40
Face makeup
When you get over 40 you will notice your skin will change too. Makeup that made you look fabulous in your twenties is just not gonna do it anymore for you. Through the years I've been using less and less and started to focus more on the quality of the products.
Tinted Moisturizer
What would the world be without a tinted moisturizer? No, I don't mean that thick foundation that's just gonna make your face look yellow and flaky. A soft BB cream or a tinted moisturizer is all you need.  My current favorite is the Unisex Healthy Glow by Charlotte Tilbury. Why? Because it brings your tired-looking skin back to life with a healthy summer glow.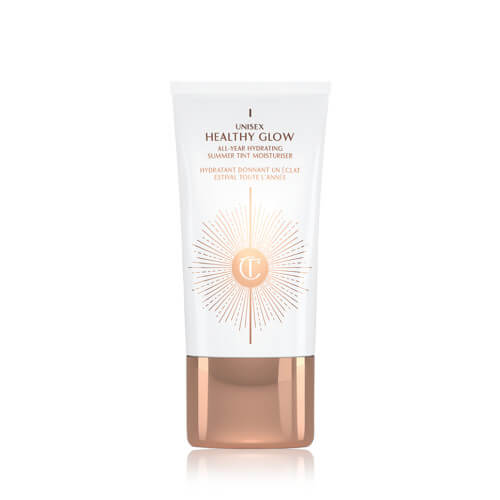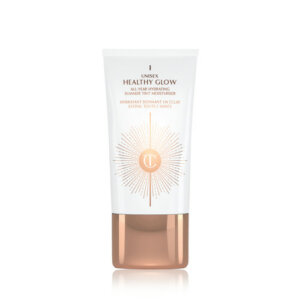 Cheeks
If I had to leave the house in 5 minutes, I would do face makeup (the ones listed above) and then throw on some blush and bronzer and call it a day. I know some of you are mascara girls, but give me a little blush and a little bronze and I feel pulled together enough to leave my humble abode. My favorite hustle-free blush is the On-The-Glow-Blush by Pixi. It's a tinted balm that comes in an easy multi-use stick.  Just one swipe and you are ready to go. I find these cream blushes work better for my skin and stay on longer than the powder ones. My favorite color is Fleur btw.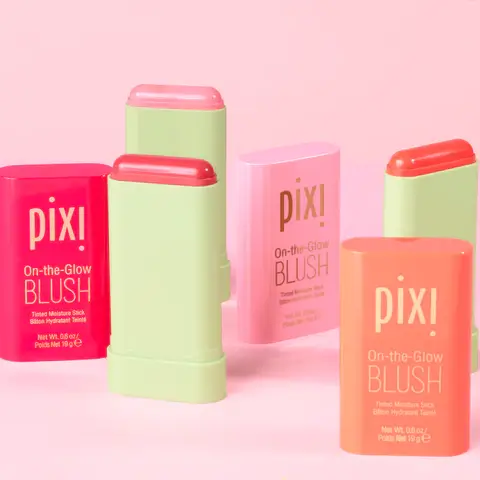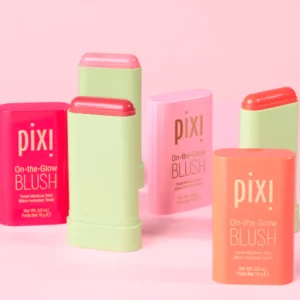 Bronzer
I've tried so many different natural bronzers and they all looked a little clay, too shiny, or just too much in general. Till I found this one at the drugstore. The Rimmel London Natural Bronzing Powder Bronzer. Nothing fancy, but it leaves your skin touched by the sun, SPF 15, and just a little glow. I love the color Sun Light, but all of the other options are gorgeous too and this is truly a bronzer that makes you look sunkissed without looking too contoured.
Highlighter
When you get into those 40-plus years the days of waking up vibrant and with a glow on your face seem to have disappeared. So it's time to fake it! And in my honest opinion, you can never glow too much! The glow I'm using right now is also from Pixi, the On-The-Glow Multi-Use Stick. It comes in the same handy stick as the blush. I love it because it doesn't look like you just put a bright streak of makeup on your cheeks. Don't forget to add some to the tip of your nose too!
Eyes
Using eyeshadow can become a little tricky when you get older. Especially when you have heavy eyelids your eyeshadow usually ends up in your lines at the end of the day. I tried many different brands through the years, cream shadows, and powders but to be honest, I only use a little off-white eyeshadow now as a base for my eyeliner, that's it.
Eyeliner
If you want to make your eyes really pop, eyeliner is the way to go. Again this is a long road of trial and error and it takes a lot of practice. Many give up on eyeliner because it's far more difficult to apply when you can't see as well as you used to. But eyeliner gives a wonderful definition to the eyes. Through the years I went from black to a softer brown color and using waterproof eyeliner is a must if you still want your makeup to look fresh at the end of the day. My favorite: The Sephora Liquid Eyeliner
Mascara
When it comes to mascara it seems like a never-ending search for the best one out there. I don't believe I've ever walked through duty-free without buying a new promise-it-all mascara. I can honestly say I've tried them all! My current obsession…Chanel, Le Volume. It's ridiculously expensive I know, but it's honestly the best I've ever had. It gives you those mega-big lashes, without clumps and smudging. Love it!!!
Brows
Okay, it's time to get serious. Your brows! Now it's really time to abandon those unnatural too dark brows. Time for a softer look! This nontoxic brow gel is awesome for people who need a little more dimension (like me). It gives your brows a little touchup without going flake. The other bit of makeup I use for my brows is the brow pencil and this is perfect for filling in the areas that need it and I LOVE the little eyebrow comb that's on it to comb through my eyebrows.  Again stay away from too dark colors and go for a softer look. My favorite eyebrow styler is the MAC – waterproof styler in the brownish/grey color Stylized.
Lips 
I probably get asked about what kind of lipstick to use when you're over 40. It probably depends on the number of lines you have around your lips. If you are still very smooth you can probably get away with a darker color otherwise just switch to a more natural shade. For me, the barely-there pinks and browns are the best. I just love those natural shades in lipstick.  Currently obsessed with the RMS tinted lip balm in color Passion Lane which nourishes and protects your lips at the same time. My other fave is by ILIA – the multi-use stick in a dusty rose color At Last.
Brands you will love if you like to go more natural
And the last word of advice for natural makeup for women over 40- invest in cream and liquid products. I would definitely recommend a cream or a light liquid foundation and cream blush. The powder can settle in those fine lines and emphasize lines we may have in our eye areas. For most women over 40, the skin tends to get drier as we mature, so using cream products with more moisture is definitely a plus. They're also pretty mistake-proof. It's easy to start with a small dab and gradually build to a soft, light color that is flattering.
I'm a huge believer that there's nothing better to invest in than yourself. Treat your skin like it's your most precious handbag. And when it comes to makeup…please don't try to look younger. You are perfect the way you are! Just enhance your best features and yes, it's true, less is more.
Make sure to follow my not-so-perfect makeup tutorials on Instagram where I share more beauty and hair tricks. Would love to meet you there!
With love & light,
Yvon