Beautiful Mykonos! A picture-perfect paradise in the middle of the Aegean Sea with its white houses and cobblestone streets. Which Instagram girl wouldn't go crazy here! But is it really as amazing as we see in the pictures? Is this really one of the best Greek islands you should put on your wishlist or are there better alternatives? Is Mykonos still worth visiting? It's time to find out.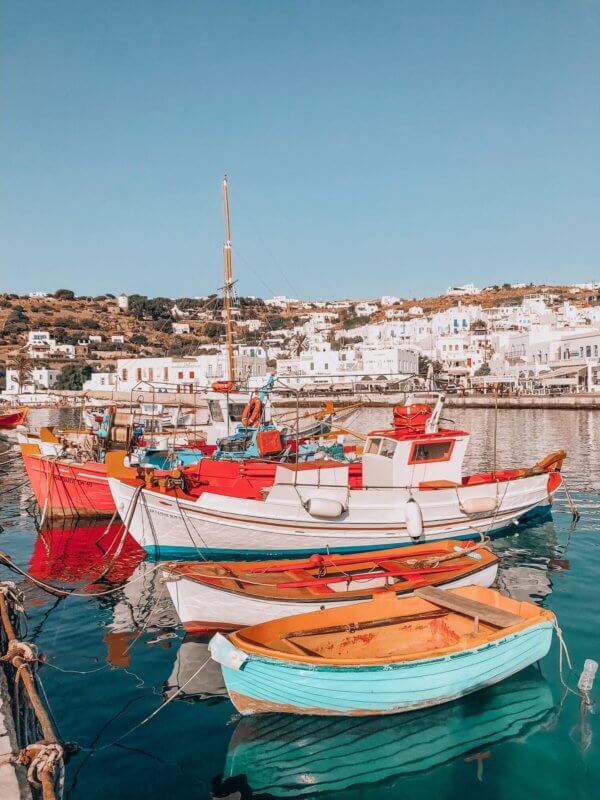 A little about Mykonos the island
The island spans 85 square kilometers with the highest point being a mere 341 meters. With almost 150 kilometers away from Athens it holds its own airport and a new harbor for the largest cruise ships. The sun shines more than 300 days per year, with temperatures in summer easily reaching 40 degrees. But no worries, Mykonos is the island of the winds and those cool winds will make your holiday way more comfortable.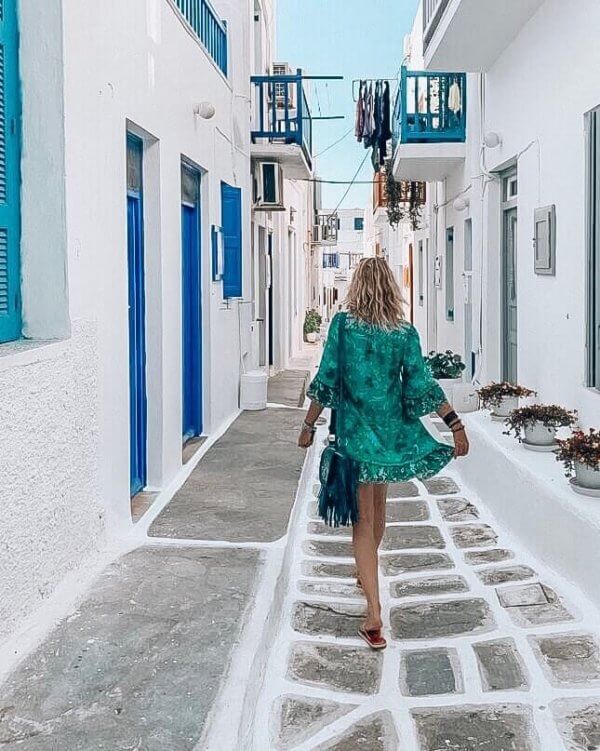 About those streets
Yes, those streets are as beautiful as you see in the pictures. The first time I walked into the city I just could not stop taking pictures. Every street, every corner seems to be more beautiful. The whites mixed with the turquoise and the deep blue from the doors, overhanging trees with flowers in every color make your camera work overtime.
BUT… yes, of course, there is a but, most of the pictures you see on this blog were made early in the morning or way before 5 PM before the big crowds from the cruise ships come in. Everybody wants to watch to sunset from the Little Venice side of Mykonos and with everybody I mean everybody.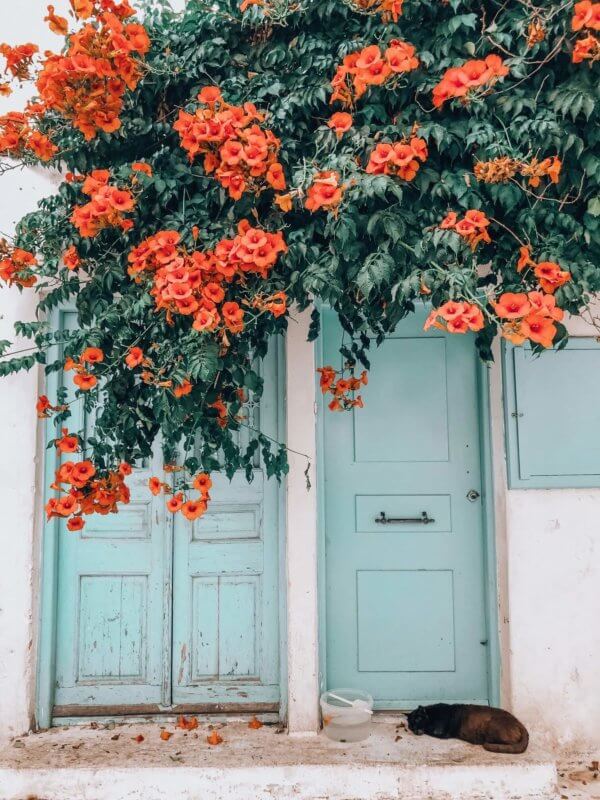 About those beaches
Your visit to Mykonos is simply not complete without visiting one of the many beaches on the island. The waters here are the most perfect turquoise and a day relaxing should be on your agenda when traveling. So off we went to Paranga beach. A trendy beach in the south of Mykonos. As we didn't have a rental car we asked the taxi driver to drop us off at Scorpios Beach Club. Such a disappointment. The club doesn't open up until 11 AM and you need a reservation to just get in. So goodbye Scorpios and we found some very nice sunbeds under the trees of St.Anna Beach Club.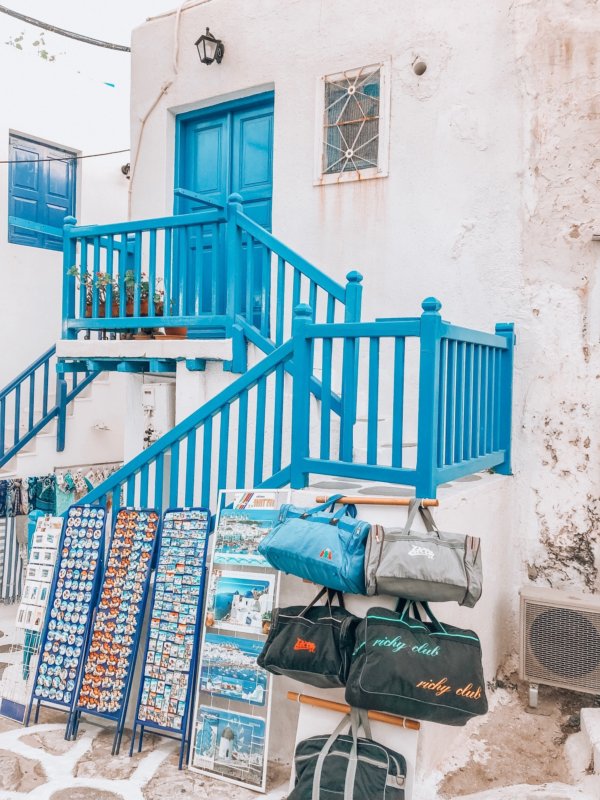 Are the beach clubs really that expensive on Mykonos? Oh YES! For 2 sunbeds and a bottle of water we paid almost 100 Euro and we were not even close to the sea. For a cabana or a bed at the shore, you will pay more than double.
Did we have a good time? Oh Yes! With a DJ in the background playing the best music, a hostess to take of your every need, and to watch all the beautiful people walk by it turned out to be a perfectly relaxing day. Would I recommend doing this every day? Nope! You will probably break your credit card so if you are into a beach holiday better to search for a quieter beach in the east of Mykonos and do check those prices to avoid disappointment.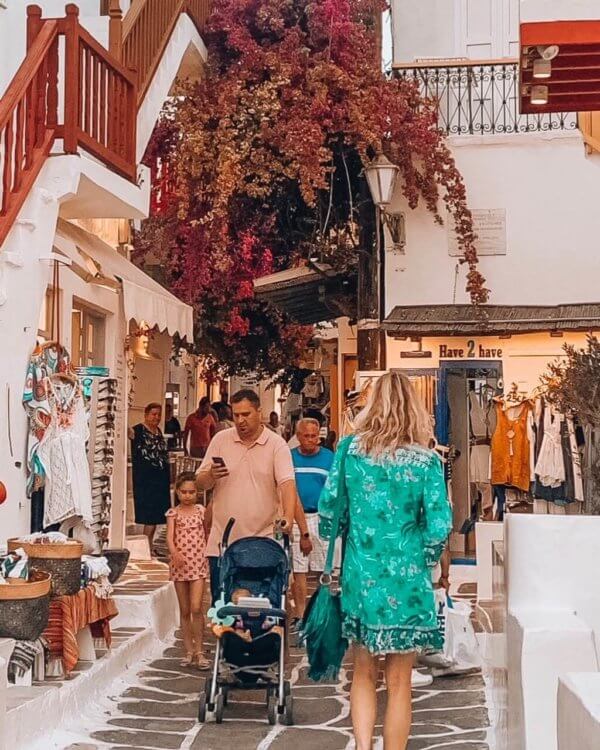 Is Mykonos still worth your visit?
Yes, absolutely! The island has it's own unique vibe and beauty, but I would not recommend staying here for 2 weeks in a row. The island is hugely popular with cruise ships and the small city is easily overcrowded. It seems that everybody is fighting over the same location to take pictures and watch the sunset. Maybe that's your cup of tea, but I rather experience an island in a different and more relaxed way.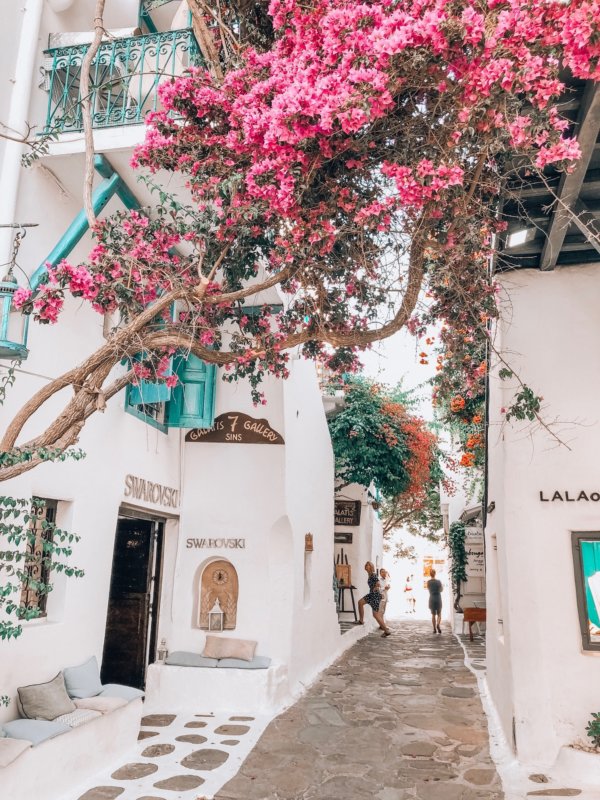 My advise; mix Mykonos with some island hopping with Tinos, Naxos, or Paros and stay for a day or 2 or 3 max. The prices on the neighboring island are much lower for food as well as accommodation AND SHOPPING. You can easily jump on a ferry and travel from one island to the next for around 15 euros only. Experience the uniqueness every island has to offer.
Did you visit Mykonos already? How did you experience the island? Drop me a note and let me know!
With love XOXO Yvon