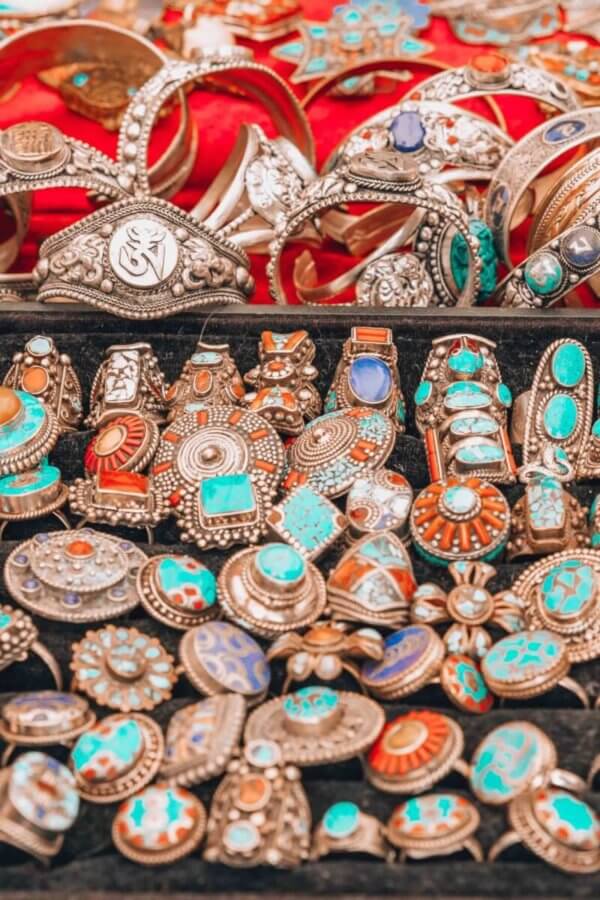 When you plan your trip to the island you definitely have to visit one of the Ibiza hippie markets. Nothing breathes the Ibiza style more than those old market where you shop till you drop. Here you can still find the original designers from the island, authentic Ibiza food, and that true hippie vibe. Find those boots you've been looking for for ages and that one special Ibiza style tunic. Yes, you can find it all in these markets.
There are two main hippie markets on the island of Ibiza
Las Dalias

– Sant Carles, every Saturday and high season also on Monday and Tuesday evenings.

Punta Arabi

– Es Canar, every Wednesday
As I usually travel to Ibiza during the weekends I mostly visit the Las Dalias market, but most vendors have a stand at both. If you are traveling during the high season the night market at Las Dalias is a great alternative if you don't want to go shopping in the blistering sun.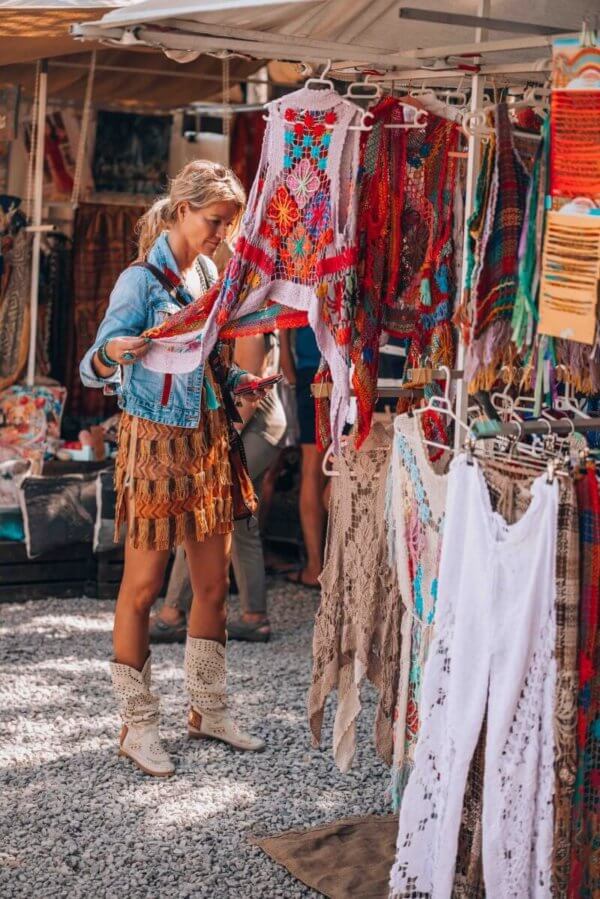 My favorites from the market
Get a pair of boots. The first time I went to Las Dalias I just fell in love with those Ibiza style boots. Yes, they don't come cheap, but I regretted NOT buying them for over a year. So when you go check out those fabulous Kilim Boots from Sabah Ibiza or get yourself a pair of Emonk's.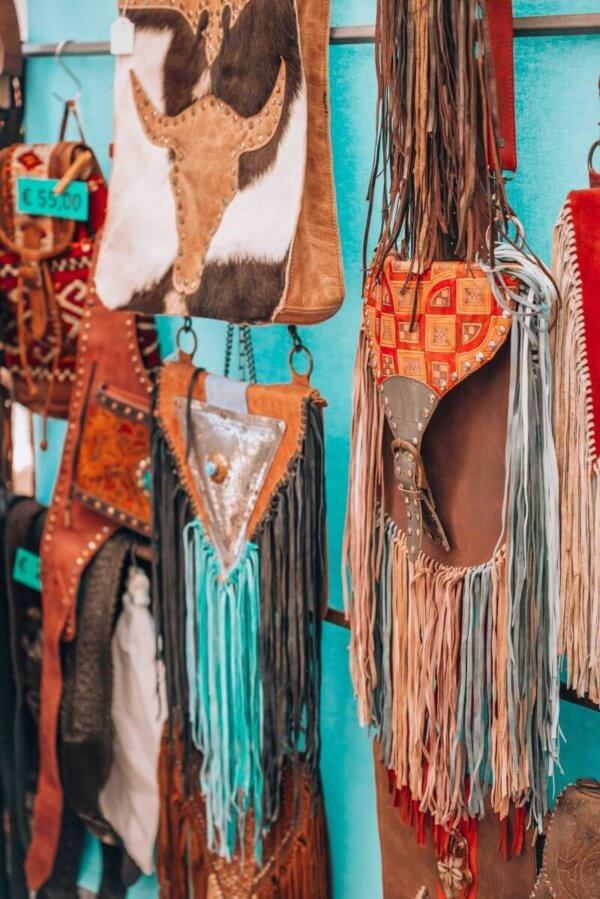 Shop my Favs
Get a bag. Ibiza is a colorful island and it seems only fair you get the right style of bag with it. And let's be honest. There is always room for one more bag right? If you are going to Las Dalias check out the stand of WorldFamilyIbiza or Flor de Vida. This year I got myself one of those big half-moon bags in blue. Perfect for the beach. You can find that stand right across the entrance by the name Salvaje Atelier.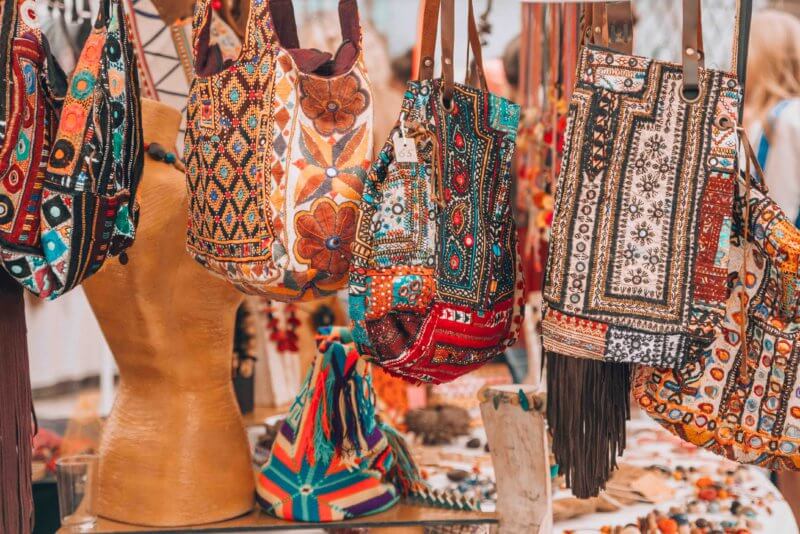 Get some jewelry. Are you a jewelry freak like me? Then you just have to pay a visit to Puchi Tibet Ibiza. This store holds an amazing collection of Tibetan rings, necklaces, and earrings. Good quality!! If you have no time for Las Dalias you can also find her on Wednesday at the Es Canar market. I never leave the market without getting a new ring here.
Click here for the best places to stay in Ibiza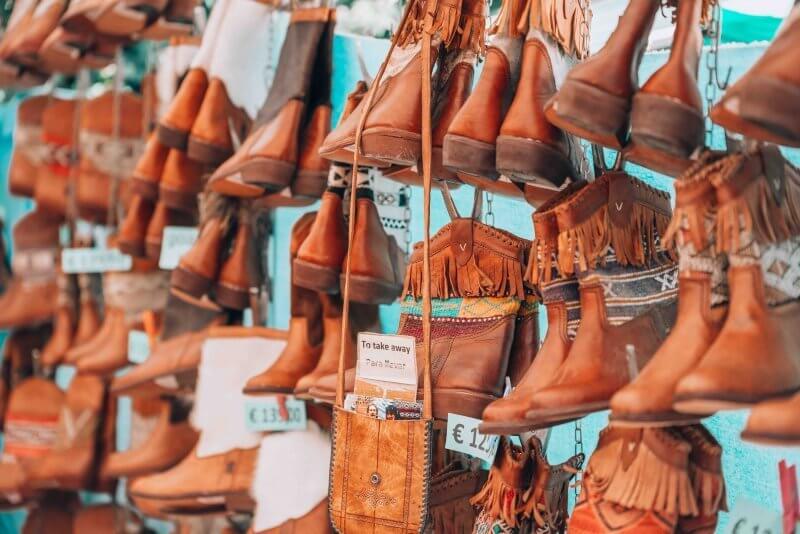 no products
Get that dress! Ibiza is well known for its unique island style. When you visit the market pay a visit to Flor de Vida or Fiorini. Think happy colors in the softest fabrics. And yes your suitcase can always have one more dress 🙂
What do you love to buy at the hippie markets? Can you easily spend your whole day here too? Drop me a note and let me know what you love to buy on these Ibiza markets.
I'm wearing: Karma of Charme – Paradise Fringe dress | Imperial boots | Custom made Jeans jacket by Chloe
With love and light,
Yvon