Hi lovelies!
I know you are used to seeing me in a more bohemian seventies style, but this look is something I really wanted to share with you! Although I was technically born in the 70s (1970) I still remember that vibrant sixties style and its amazing colors.
About the Sixties
The sixties were a time of great change, but one thing that remained constant was the love and light spirit of the hippie movement. This spirit was expressed in many ways, including through fashion. Hippie fashion was all about freedom, expression, and individuality. When I look at old photos of my mum it makes me smile seeing her in mini dresses with the big hair! It just seems like such a fun time 🙂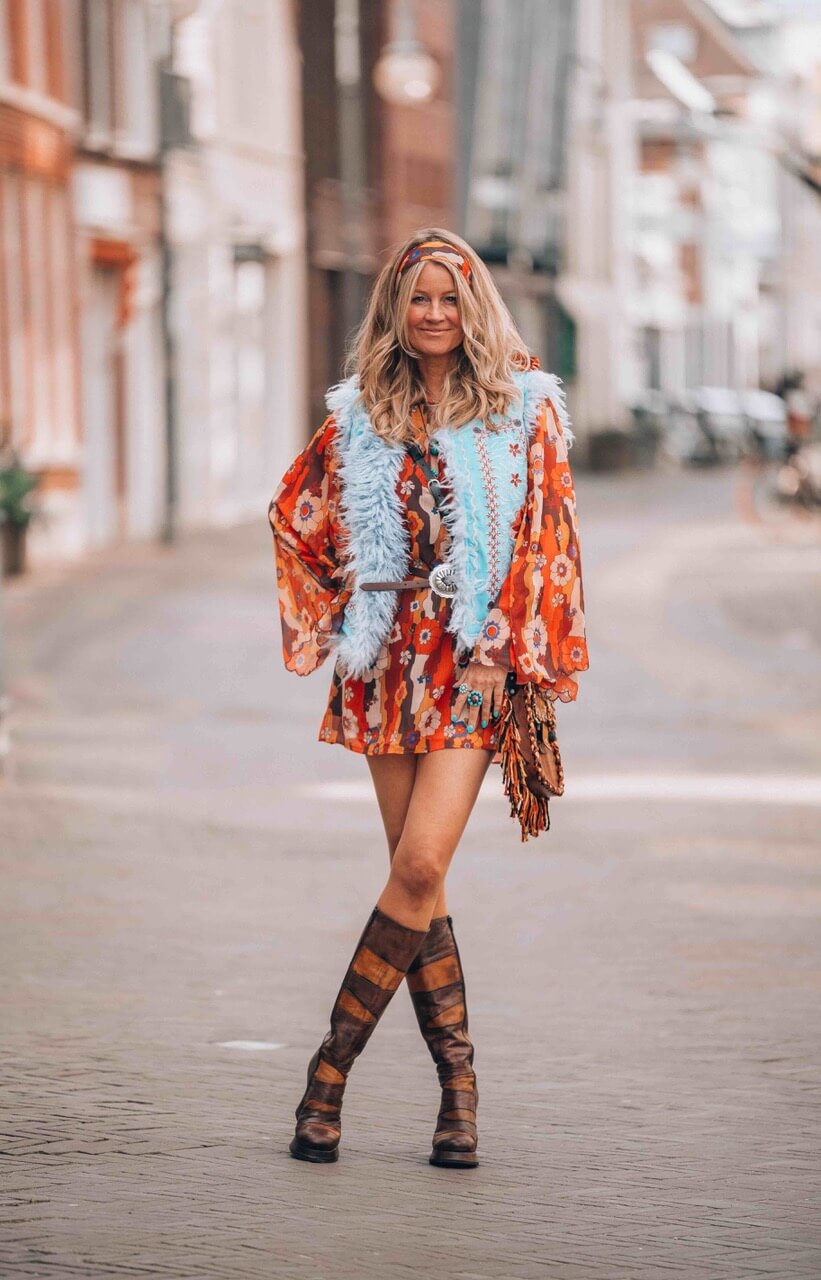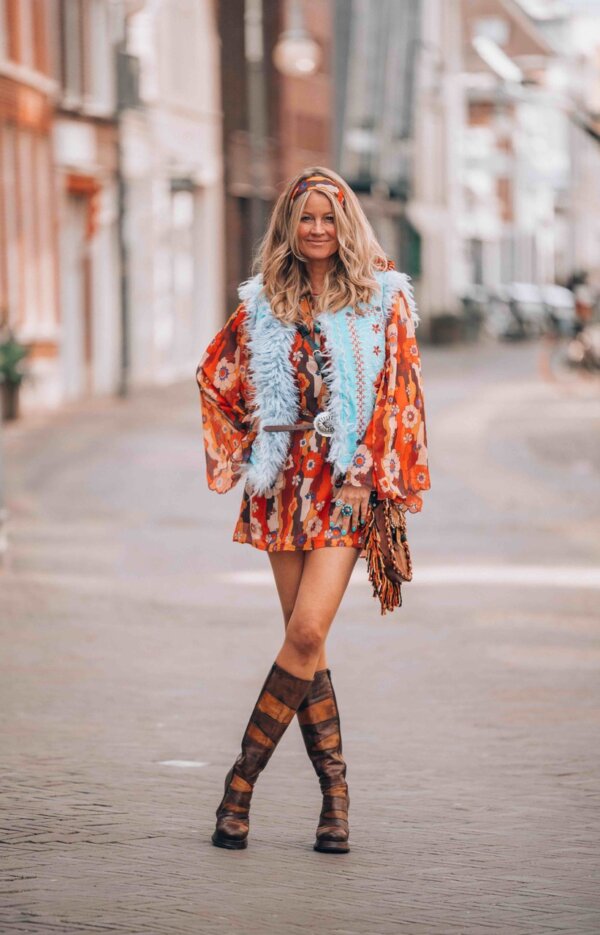 The retro dress I'm wearing for this look is from The HippieShake. It's made from high-quality materials and features a classic sixties silhouette with big flowy sleeves. It is super short so I'm wearing nude cycle shorts underneath so I don't feel so naked. The dress comes in a deep brown and vibrant orange color. I styled it with a belt but you can also wear it more relaxed of course.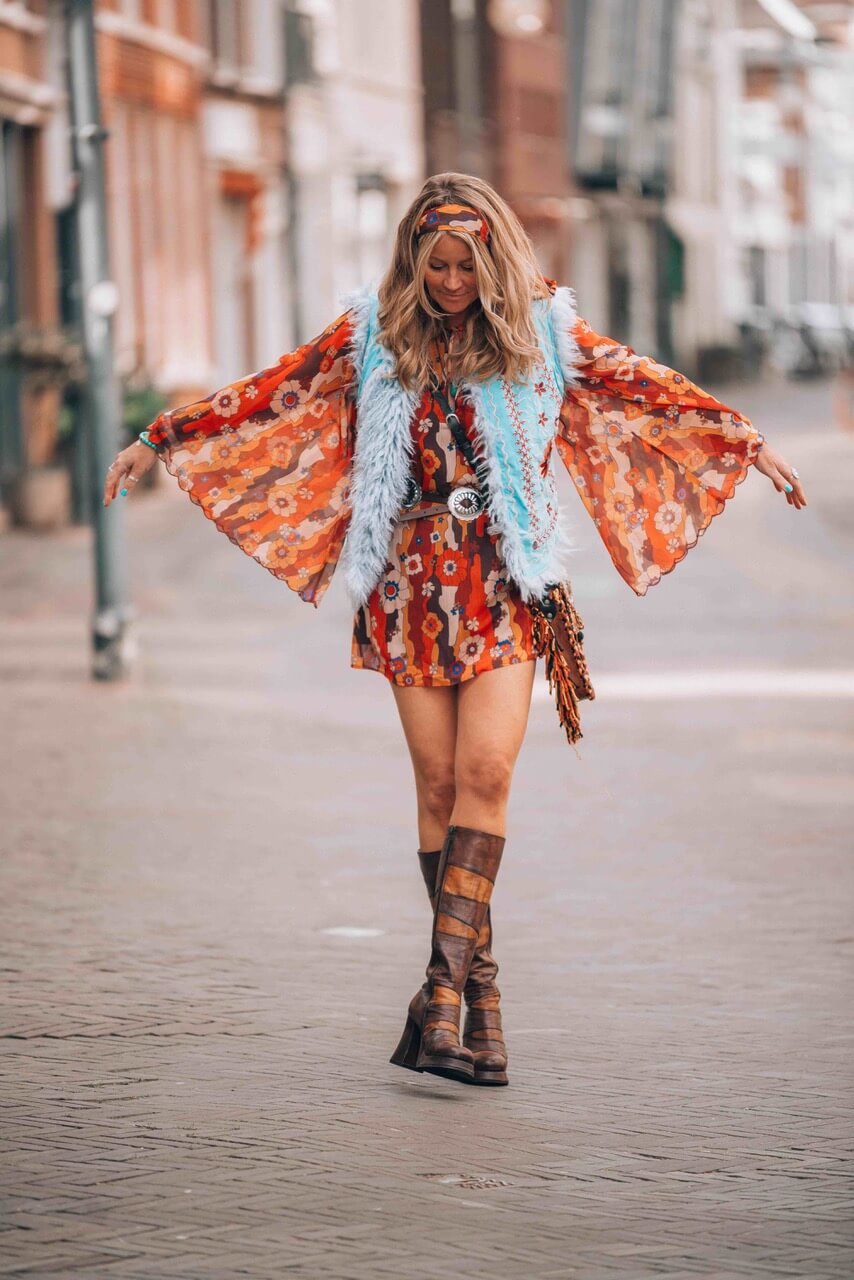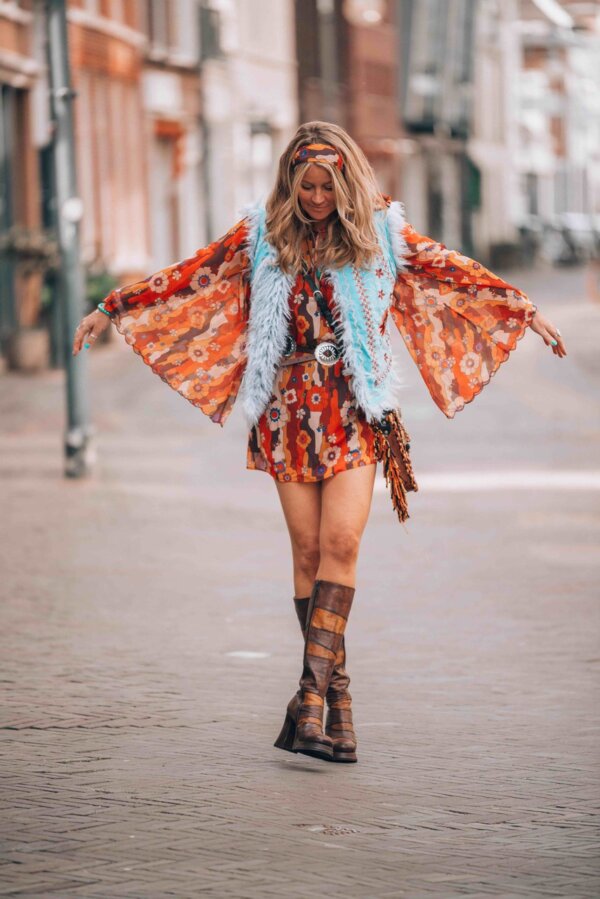 For this look, I styled it with my vintage platform boots I found on Etsy together with a baby blue waistcoat. The waistcoat can also be worn inside out, but I simply loved the embroidery on it too much to turn it. Not a fan of mini-dresses? Simply wear the dress as a tunic on your jeans and it will still look amazing! The waistcoat is also perfect for the colder days with a maxi dress.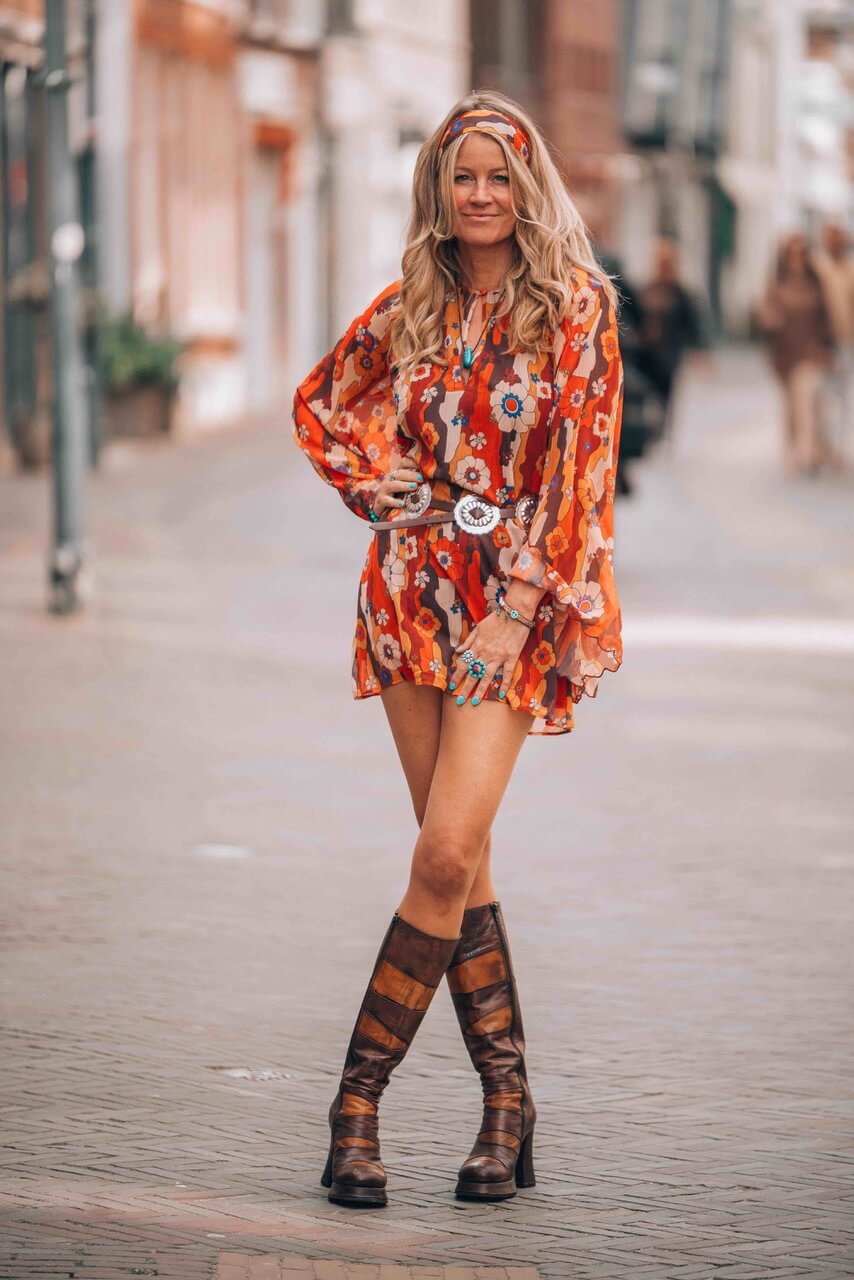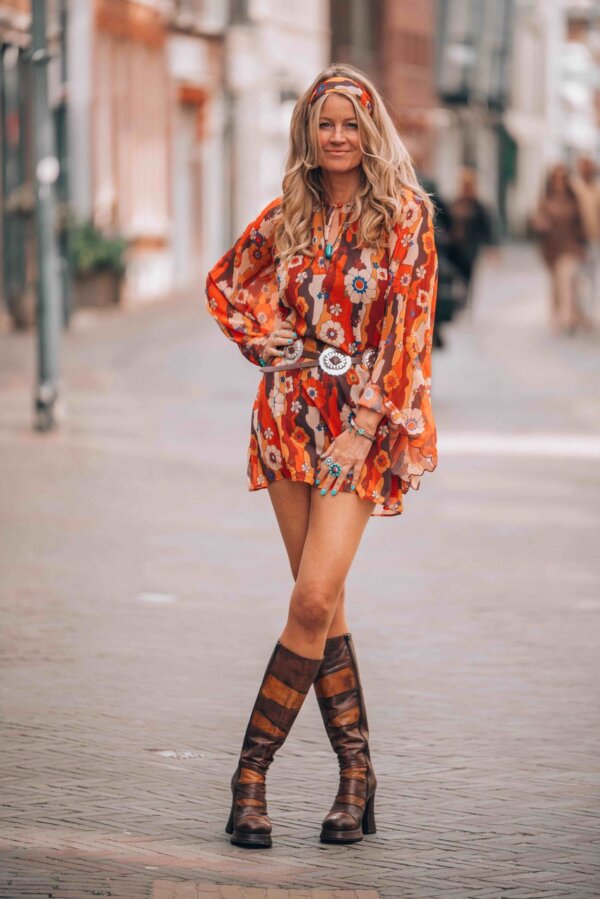 How to style your retro mini dress
Wear it with boots. Boots are a great way to add some edge to the outfit. You can wear platform boots, knee-high boots, or even cowboy boots.
Accessorize with statement jewelry. Statement jewelry is a great way to add some personality to the outfit. You can wear a big necklace, a pair of chunky turquoise earrings, or a statement bracelet.
Wear it with a shawl or scarf. A shawl or scarf can add some warmth and style to the outfit. You can wear a brightly colored shawl or a patterned scarf. The one in this look is from the same material as the dress.
Wear your hair down. Long, flowing hair is a great way to complete the hippie look. Add some waves or braids to your hair and don't forget to add some dry shampoo for volume.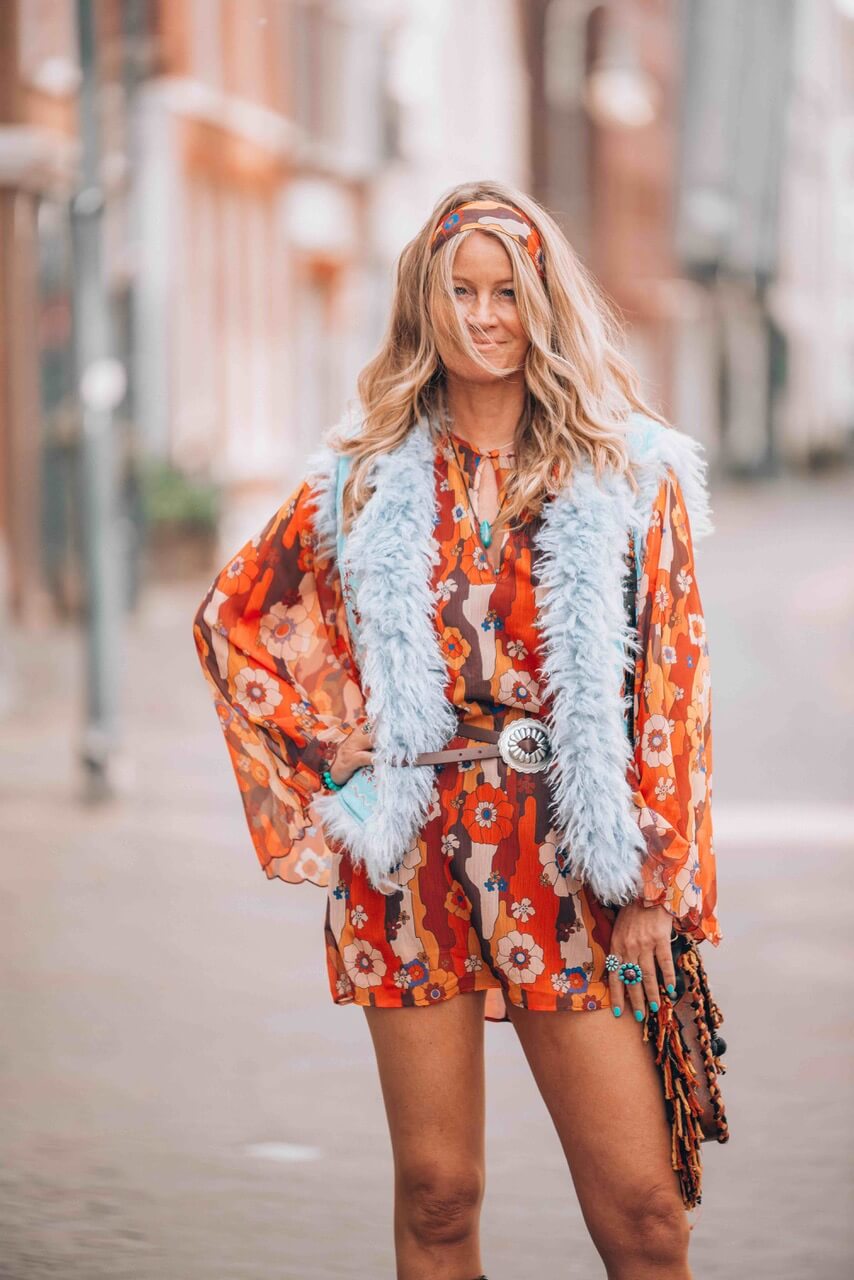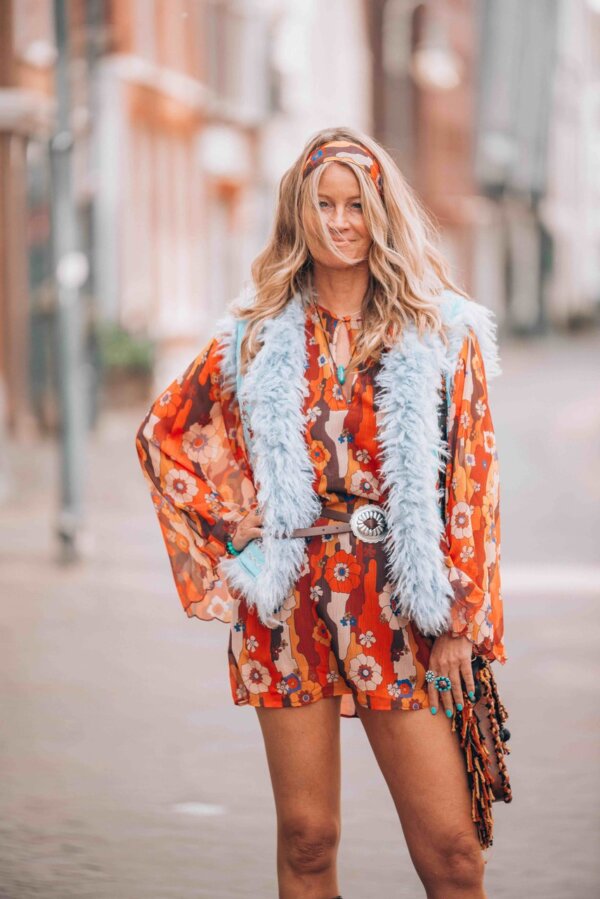 Get the Look
Floral  retro mini dress by The Hippie Shake
Vintage platform boots from Etsy
So what do you think of my little escape to the sixties? Do you think it's fun or do you rather see me in a more boho look? Do you remember the sixties?
With love & light
Yvon