Hi, lovelies! As I mentioned in my latest blog – Would stop shopping be better for our planet – the latest fashion trend isn't the latest color or a must-have style: it's the concept of sustainable fashion and ethical clothing. Did you know that the fashion industry is the second most polluting industry after oil and gas? Choosing sustainable fashion is an important choice that we can all make to help address what is a growing and significant issue.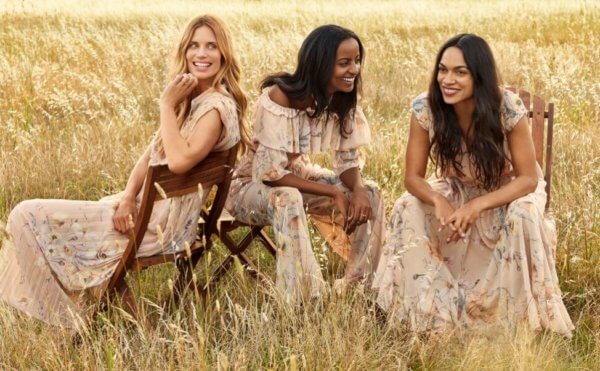 What is sustainable fashion and why should we care?
To contribute to the well-being of our planet, sustainably produced fashion is therefore made from environmentally-friendly textiles (such as sustainably grown fiber crops or recycled materials) and it seeks to minimize waste throughout the supply chain. And while there's no such thing as 100% eco-friendly clothing as all garments have at least some negative impact on the environment — there are brands working hard to help make a difference.
While fast fashion focuses on clothes made cheaply and intended for short-term use, sustainable or ethical fashion is the opposite. Slow fashion brands focus on the full lifecycle of the product, from design to the production process. They look after everyone and everything affected by the production, the welfare of the workers, and the communities where it's produced.
Of course shopping, second-hand or vintage is the best way to reduce our fashion footprint but I do understand you like to see some new items in your wardrobe from time to time. So, I've made a list of my personal favorite boho labels that make sustainability their priority.
 Sustainable bohemian brands that are trying to make an effort
Welcome to the world of Reformation. This U.S.based fashion brand breathes sustainability. From the office they work in, the way they dye their garments, and the materials they use. If you like to shop with a conscience this is the place for you.  
Guaranteed Fair Trade, PCTA approved vegan, and member of the Organic Soil Association. Do I need to say more? And, yes, they make some pretty nice clothes too. Originally from the U.K. but they ship worldwide. 
So happy Spell Designs has made it to the list. The Australian founders' Isabella and Elizabeth have made the bold choice to walk lighter and try to truly make a difference with their brand. As a small independent label, they started 4 years ago by slowly adding sustainable fibers into their collection. Focusing on recycling, better packaging, and finding ways to empower their workers around the globe. In 2019 they received the Banksia sustainability award for small businesses. If you like bohemian fashion and care for our planet SHOP SPELL.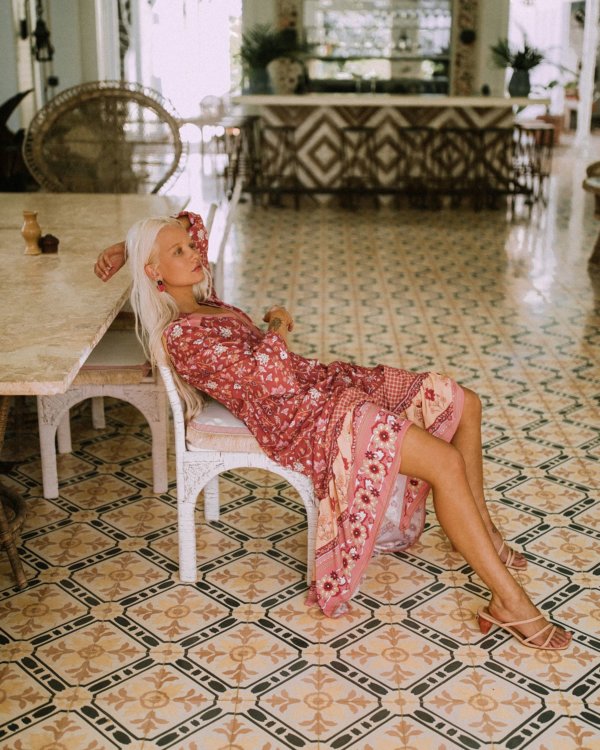 Spell & The Gypsy
H&M is famous for its low prices and quick collections. Thankfully they have become more aware of their impact on the planet and have created a new conscious label. Each item of the Conscious Collection has an aspect that lessens the environmental impact like organic cotton or recycled polyester. The best part is that the prices are still super low so you don't need to break the bank while shopping. Did you know you can also leave your old clothes at H&M now for recycling so they won't end up in a landfill? Nowadays H&M uses 57% recycled or sustainable sources of fabrics but their goal is 100% in 2030.
Jeans made from organic cotton without the use of pesticides, chemical fertilizers, and insecticides! Yes, that's what we love to wear. Pesticides pollute the soil and water killing wildlife and harming communities. Especially when you buy your jeans it's important to check which fabrics they are made from. Kuyichi also doesn't sandblast their jeans. Exposure to dust from sandblasting is a serious health hazard for the workers in that industry.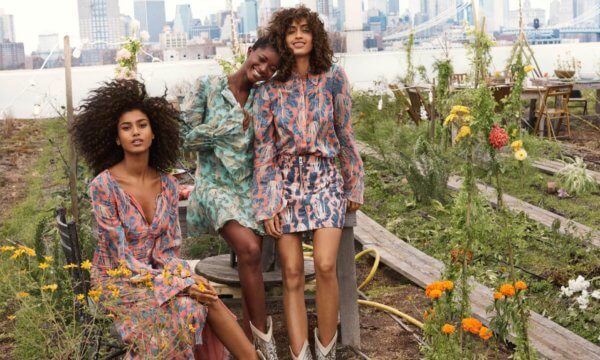 Another one of my favorite jeans brands – Nudie Jeans. With 98% sustainable garments in their collection, Nudie Jeans was one of the first denim labels created to be fully green. They re-use and repair jeans in their boutiques and now you are even able to buy pre-owned jeans online! Did you know Nudie replaces the leather labels on the back for vegan ones? 
Another bohemian fashion brand with its heart in the right place. Working with sustainable fabrics, high-quality garments, and a long lifespan Odd Molly is one of the best slow fashion houses in Europe. Being a member of the Wear Fair Foundation to protect the welfare of the garment workers and saying no to fur and angora yarns is a big thumbs up for me.
Wouldn't the world be a lot more boring without Tulle & Batiste? This beautiful boho brand from Bali is one that will steal your heart. Unlike most labels, T&B doesn't work with agents or third parties manufacturers. They design and produce everything in their own factory with all the workers coming from the island itself. They are proud supporters of slow fashion, focusing on quality over quantity only dropping a new collection once or twice a year. For their fabric, they use rayon made from regenerated wood pulp, only using half the energy compared to cotton. If you are ever in Bali please drop by and pay them a visit and see for yourself.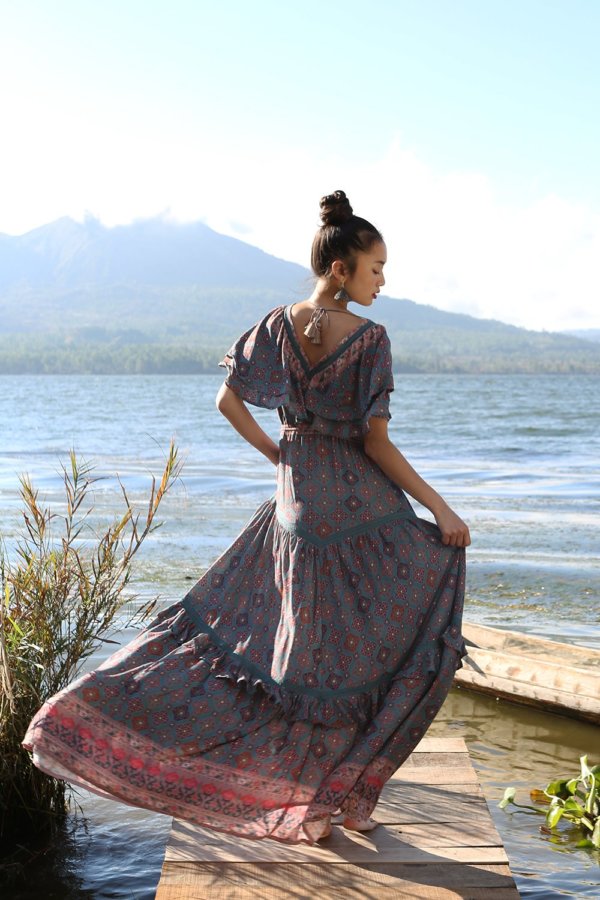 One of the best bohemian labels from Scandinavia. With several stores throughout Sweden, Finland and Norway they will now also open their new worldwide online store in February!!  Indiska is one of the first stores I fell in love with while visiting Oslo and that love has never ended. Indiska is a brand that focuses on equal rights and being an ethical workplace on all levels. Their goal is to keep on increasing the use of natural materials as well as ensuring their environmental impact stays as low as possible throughout the whole production chain. A brand that takes its responsibility. 
A sustainable luxury fashion and lifestyle brand from the States. Here you can shop your favorite look, accessories, natural beauty, and activewear all in one place. Quality from a place of consciousness. Maybe not the cheapest place to shop but absolutely worth the mention. 
Last but not least one of my absolute favorites from Australia. Another example of a great marriage of sustainability and bohemian fashion. 98% of the fabrics Arnhem Clothing uses are sustainable from Lenzing Tencel to Organic Cotton. With a zero-tolerance for plastics, all packaging has been replaced by corn-starch bags. As for paper packaging: all swing tags, shipping boxes, and tissue paper it's all made of FSC-certified recycled material. A brand that tries to make a difference, matters to me.
I hope you like the list of my personal favorite sustainable bohemian fashion brands. I know there are many more brands out there I have to discover so please feel free to drop me more names in a comment below. Let's just hope this list will grow longer and longer over the years as more brands will become aware of the footprint they leave on this earth.
With love & light,
Yvon