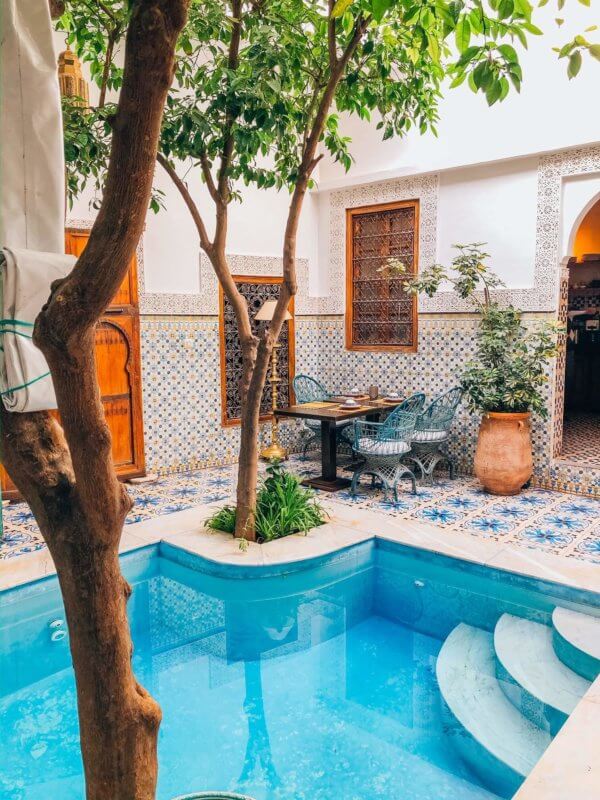 Always wanted to stay in the beautiful city of Marrakech? Why not stay in one of those amazing riads in the middle of the Medina? There is just no better way to experience the city! Staying in a welcoming home, located right in the heart of the medina with its little alleyways and souks, a place to relax where you can only hear the birds sing.
A beautiful riad in Marrakech
We just got back from our little city trip to Marrakech and it couldn't have been more wonderful. This time we wanted to stay in a different part of the Medina, but still close to all the magic of the city. Affordable, but also very Instagram worthy 🙂
Riad Yamina 52 was everything we wished for.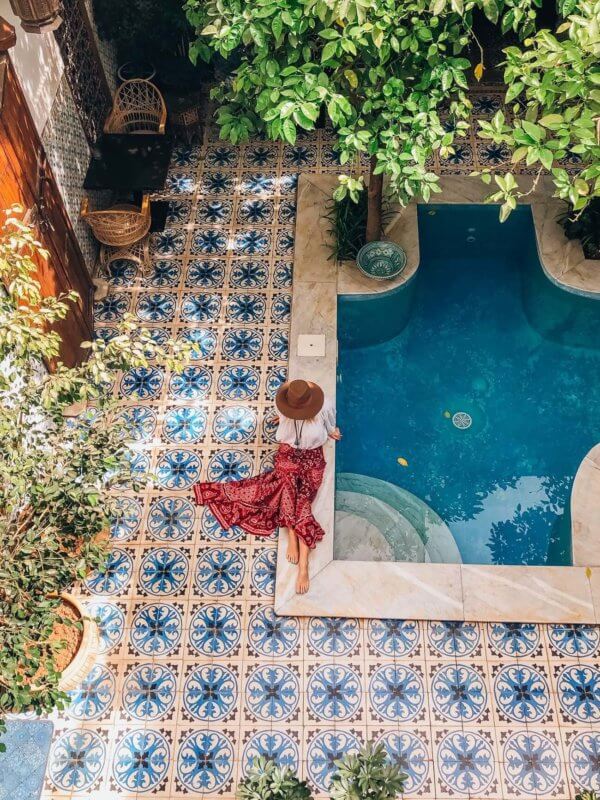 outfit: skirt by House of Skye | hat from Carlala Fashion 
This traditional Moroccan home has been lovingly restored using traditional materials and ancient construction techniques. The beautifully decorated courtyard with a little pool, a rooftop terrace to relax after spending a day shopping and sightseeing at the bazaar, and last but not least the great food! I'm such a difficult eater, but the traditional Moroccan food they serve here is absolutely gorgeous. Because we didn't want to wander the medina at night we had our dinner every night at the riad. And to be honest….the food here was much better than we had at  Nomad or at Cafe Epices 🙂 Just tell the cook what you love to eat and what you don't like and she makes the most amazing tagine for you!
Click here for more info and availability for Riad Yamina in Marrakech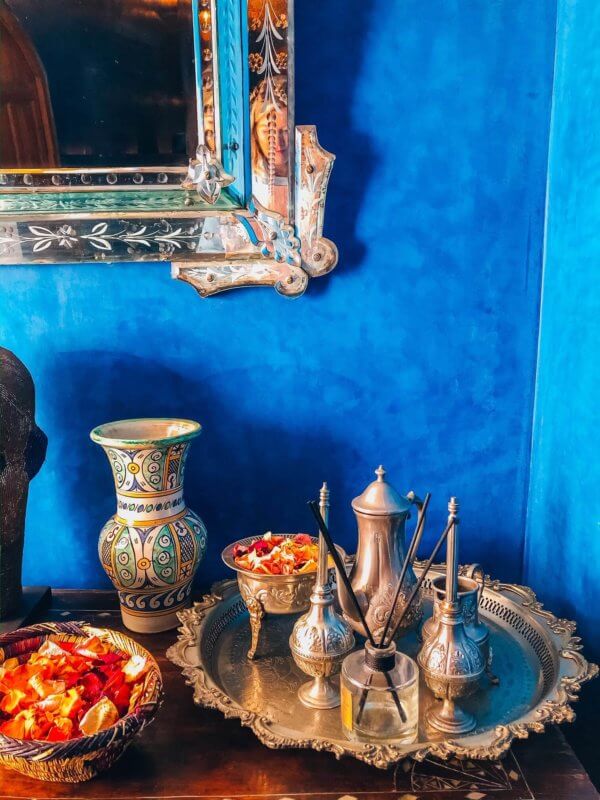 Do's & Don'ts
If you are planning a trip to Marrakech I would suggest traveling no later than April as the temperatures are rising quickly. We already experienced temperatures of 30 degrees in the middle of March. Stay in a riad as these small boutique hotels will really let you experience the real Marrakech. And my last piece of advice: take some cash money with you as Morocco has a closed currency system. Best to change your money at the bank and avoid paying with a credit card. You can find banks throughout the whole medina. If you like more do's and don'ts please read here.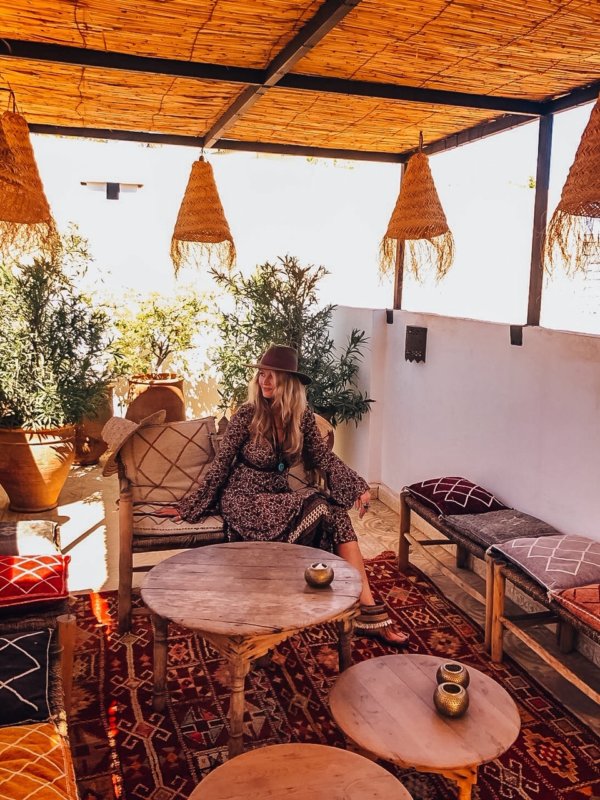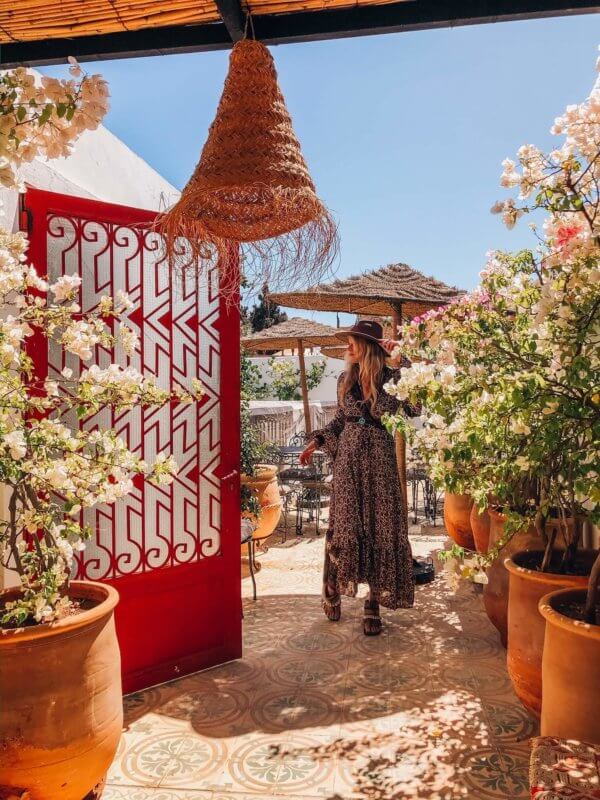 outfit: dress from IbizaTrendy | sandals EmonkIbiza
Did you visit Marrakech already? What is your favorite thing to do in the city? This was my fifth time and I still discover new places each time! If you like to read more about my other Marrakech adventures click here.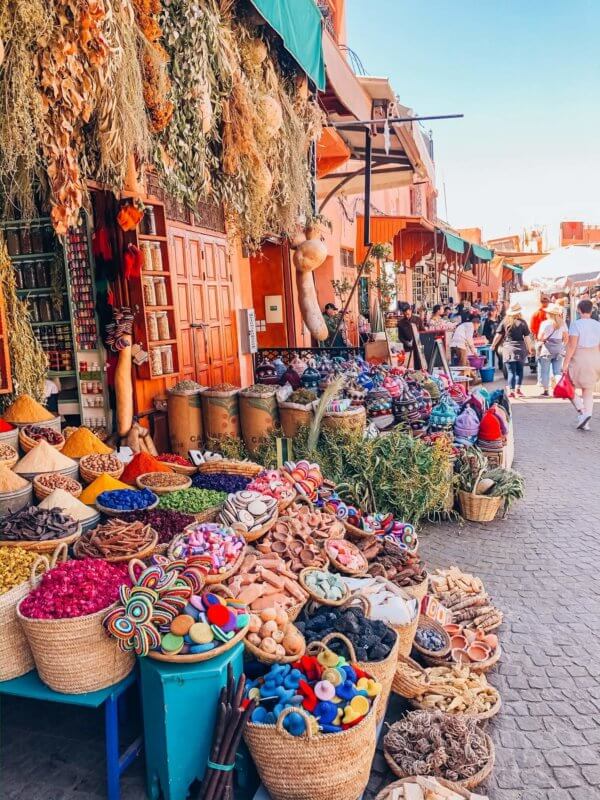 Our next trip is supposed to be to Ibiza in April but with the Coronavirus going on and all the travel bans I'm not sure if there is gonna be a lot of travel in the near future for us. Important thing is to be healthy and to stay safe.
With love & light,
Yvon
ps: this blog is not sponsored in any way. I truly enjoyed staying at this riad 🙂